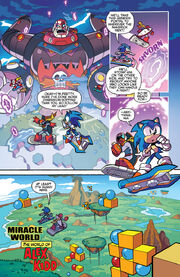 Alex Kidd (アレックスキッド, Arekkusu Kiddo) is a video game series from Sega whose popularity peaked during the late 1980s, being at its peak with the release of the first game, Alex Kidd in Miracle World. For a time the titular protagonist was considered Sega's mascot until the creation of Sonic the Hedgehog in 1991, who become more popular and recognizable than Alex Kidd, subsequently replacing him as Sega's mascot.
During the event Worlds Unite, the world of Alex Kidd is one of the many invaded by Sigma's army of Mavericks. Magna Centipede attempts to set a Unity Engine in Miracle World, but is stopped by Alex Kidd and his friend Stella. After seeing their abilities, Sonic the Hedgehog and Break Man convince the two to join them in the battle against Sigma.
Characters
Characters that appeared in Mega Man related media.
External links
Community content is available under
CC-BY-SA
unless otherwise noted.