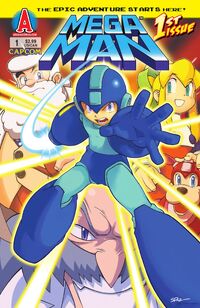 Archie Comics is an American comic book publisher headquartered in New York, known for its many series featuring the fictional teenagers Archie Andrews, Betty Cooper, Veronica Lodge, Reggie Mantle and Jughead Jones, amongst others. The characters were created by publisher/editor John L. Goldwater, written by Vic Bloom and drawn by Bob Montana. They were based in part on people met by Goldwater "in the Midwest" during his travels throughout the United States while looking for jobs and places to stay.
Archie's first appearance in Pep Comics #22 on December 22, 1941, was drawn by Montana and written by Vic Bloom. With the creation of Archie, publisher Goldwater hoped to appeal to fans of the Andy Hardy movies starring Mickey Rooney. Archie Comics is also the title of the company's longest-running publication, the first issue appearing with a cover date of Winter 1942. Starting with issue #114, the title was shortened to simply Archie. Whenever either the narration or one of the characters alluded to an earlier event in the comic, the phrases are marked with an asterisk (or more, if there's more than one reference point) and an additional bubble gives the citation in the asterisk.
In 2011, Archie Comics began publishing a Mega Man comic book series.
Prior to the publishing Mega Man, Archie has had a long success with Sega's mascot Sonic the Hedgehog. By the time of Mega Man #1, the main series titled Sonic the Hedgehog reached 225 issues, with the spinoff title Sonic Universe having reached 28 issues.
In 2013, both characters crossed over in the 12 issue arc Worlds Collide.
Another crossover between the three titles was released in May 2015, along with Archie's new series Sonic Boom.
Archie's Mega Man title later went on hiatus after Issue 55.
External links
Community content is available under
CC-BY-SA
unless otherwise noted.