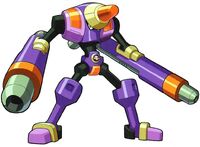 Asteroid Navis are NetNavis exclusive to the anime.
History
The Asteroid Navis are given by Slur to humans in order to test them. They take the appearance of enemies Lan and MegaMan.EXE defeated before, but not all of them have been seen before. They are immune to conventional methods of dispatch like elemental weakness. Operators also get a Dimensional Chip that allows the corresponding Asteroid Navi to materialize in the physical world for short periods of time. Some owners of Asteroid Navis banded together under Tesla Magnus to form the Neo WWW. Many of their NetOps are anime exclusive.
All the Asteroid Navis are deleted by the end of the series, except for Asteroid NapalmMan.EXE, who is in Fyrefox's custody.