The boss character contest (ボスキャラ募集, bosu kyara boshuu, roughly "boss character application") is a contest held by Capcom where fans send ideas for boss characters to appear in the game.
Contests and characters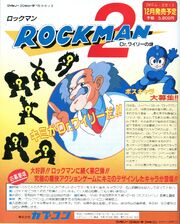 The first boss character contest, which had 8370 entries and decided the eight Robot Masters that appear in the game. 10 participants received a "staff only" blouson, 100 received a Rockman 2 Original Music tape, and 500 received seals.[1] Besides the eight winners, forty participants were listed in the game's Japanese manual.[2]
Boss
Designer
DWN-009 Metal Man
Masanori Satou (

佐藤 正徳

Satō Masanori

)
DWN-010 Air Man
Youji Kanazawa (

金沢 洋治

Kanazawa Yōji

)
DWN-011 Bubble Man
Takashi Tanaka (

田中 隆

Tanaka Takashi

)
DWN-012 Quick Man
Hirofumi Mizoguchi (

溝口 博文

Mizoguchi Hirofumi

)
DWN-013 Crash Man
Akira Yoshida (

吉田 晃

Yoshida Akira

)
DWN-014 Flash Man
Tomoo Yamaguchi (

山口 智雄

Yamaguchi Tomō

)
DWN-015 Heat Man
Toshiyuki Kataoka (

片岡 稔幸

Kataoka Toshiyuki

)
DWN-016 Wood Man
Masakatsu Ichikawa (

市川 雅克

Ichikawa Masakatsu

)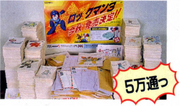 The contest decided the eight Robot Masters. Had 50,000 entries. Some runner up entries received a pencil case and ID card as prize.[3]
Boss
Designer
DWN-017 Needle Man
Nobuhiko Akatsuka (

赤塚 信彦

Akatsuka Nobuhiko

)
DWN-018 Magnet Man
Nagashi Kii (

紀井 長

Nagashi Kī

)
DWN-019 Gemini Man
Yoshihito Hattori (

服部 嘉人

Hattori Yoshihito

)
DWN-020 Hard Man
Kazuhiko Oguro (

小黒 一彦

Oguro Kazuhiko

)
DWN-021 Top Man
Yasushi Konjiki (

近喰 康史

Konjiki Yasushi

)
DWN-022 Snake Man
Yuhjiro Ishitani (

石谷 裕二郎

Ishitani Yūjirō

)
DWN-023 Spark Man
Mikihiro Suzuki (

鈴木 広

Suzuki Hiroshi

)
DWN-024 Shadow Man
Takumine Yoshida (

吉田 拓峰

Yoshida Takumine

)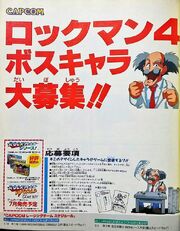 The eight Robot Masters. The winners from this game's contest received a golden Rockman 4 cartridge.[4] Everyone that participated received the booklet Rockman Character Collection. Had 70,000 entries.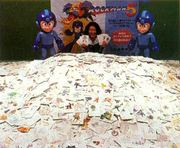 Like previous contests, it decided the eight Robot Masters. Had 130,000 entries.
The only contest from the original series with non-Japanese winners, with a contest being held by Nintendo Power. Had 200,000 entries. One of the non-Japanese winners, Daniel Vallée, recalled that, besides his winning entry of Knight Man, he had submitted enough Robot Master designs to fill eight whole games, with names including Wave Man and Samurai Man (the former of whom had coincidentally had a shared name with an unrelated Robot Master in Mega Man 5).[5]
The eight Robot Masters. Had 220,000 entries.
Sword Man, Clown Man, Search Man, Frost Man, Grenade Man and Aqua Man. For this contest a template was given for three of them: one boss character with a sword (the winner being Sword Man), one with extendible arms (Clown Man), and one with two heads (Search Man). Besides the six winners, some submissions are displayed in the game's credits and the Sega Saturn's Bonus Mode.[6] Some participants won a Mega Man themed calculator.[7] Had 110,000 entries.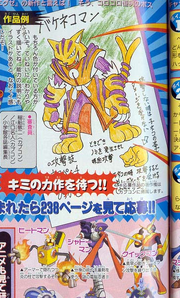 Two contests were held. In the first, the winner was Arcade Man, and besides him, three runner-ups (Tabletman, Zehr, and Daruman) were added as Battle Memory.[9][10] The second has a Japanese motif, with eleven characters being added as Battle Memory.[11]
Gallery
References