Raise a Floppa - The Loop
Play Sound
BowlMan (ボウルマン, Bouruman) is an antagonist in MegaMan NT Warrior Axess. Originally a solitary bowling enthusiast, BowlMan was corrupted by ShadeMan and turned into a Darkloid, becoming an enemy of Lan and MegaMan.
Overview
Like his video game counterpart, BowlMan was a solo NetNavi. However his history in the anime is vastly different as rather than being a high ranking member of the Undernet Ranking, BowlMan is a bowling enthusiast who was corrupted by ShadeMan and turned into a Darkloid, becoming an enemy of MegaMan.
History
BowlMan first appears as a NetNavi in a bowling alley, but ShadeMan presents him with a Dark Chip to help him improve his game. BowlMan then becomes a Darkloid after using it and battles on their behalf. He fights Cross Fusion MegaMan thanks to a Dimensional Area and is defeated, being the first Darkloid to be deleted in the series. A Dangerous Bowling Game!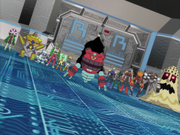 After deletion, BowlMan was revived by Dr. Regal along with all of the other deleted Darkloids for the sole purpose of attacking the NetPolice and ensuring the destruction of Control X (which was being used by the NetSavers to help locate Regal's secret space satellite), but once again he is deleted by MegaMan using Metal Soul. The Great NetPolice Battle!

---
PLEASE NOTE:

THE FOLLOWING INFORMATION IS ABOUT MATERIAL THAT WAS NOT LOCALIZED OR DUBBED OUTSIDE OF JAPAN OR OTHER COUNTRY, AND USES THE ORIGINAL TERMS AND NAMES.
---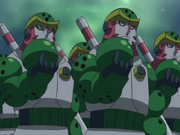 Multiple copies of BowlMan appear as part of the Darkloid army, but they are eventually deleted. Space-Time War

---

END OF UNLOCALIZED MATERIAL.
---
List of appearances
MegaMan NT Warrior Axess
Rockman.EXE Stream
Gallery