BurnerMan (バーナーマン, Bānāman) is an antagonist in MegaMan NT Warrior Axess and Rockman.EXE Stream. One of the Darkloids spawned from darkness under ShadeMan, BurnerMan fights against MegaMan and his friends as he tries to tear down the world to make it a place solely for Darkloids.
Overview
TBA
History
BurnerMan attempts to steal the city's natural gas, which leads to him fighting against both MegaMan and GutsMan at an old silo, though BurnerMan himself loses when MegaMan uses Guts Soul. Dex Returns!
After BubbleMan fails to steal the Rare Metal needed to create Dark Chips, BurnerMan is sent instead. He easily gets the Rare Metal BubbleMan couldn't come close to stealing, while Lan and MegaMan fail to stop him because they were unable to break through the Dimensional Area. He is sent again to steal more Rare Metal from another building, but this time around, a Cross Fused Lan and MegaMan defeat him, having perfected the technique needed to break into Dimensional Areas from the outside. The Unsafe Safe!
BurnerMan appears once again in a Dimensional Area around a hot spring and tries to make it explode. However, Lan and Chaud are in that very hot spring and use Cross Fusion to fight and defeat him. Magma Battle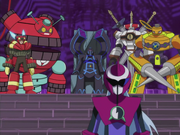 Later, BurnerMan, along with GravityMan, SparkMan and SwordMan, betrays ShadeMan and serves under LaserMan. Nebula's Secret Base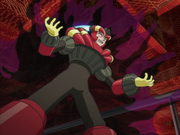 BurnerMan appears once more, challenging MegaMan to a fair one on one battle. MegaMan accepts his challenge and arrives at the location for their fight, but SpoutMan doesn't let go of MegaMan because MegaMan himself had saved SpoutMan earlier on at the start of the episode, with Roll following suit and doing the same thing to MegaMan as well in due time. This causes BurnerMan to get really irritated, having him attack MegaMan upon sight. During the battle, BurnerMan had used a Dark Chip to gain more power when he and MegaMan had fought against each other, also taking advantage of the fact that Lan and MegaMan were separated and thus Lan himself was unable to use Battle Chips to help support MegaMan. SpoutMan had attempted to help out MegaMan in fighting against BurnerMan, but ended up getting the way of the fight. When BurnerMan launches a giant fireball at MegaMan and SpoutMan, they use Double Soul and MegaMan gains the Spout Soul, finally deleting BurnerMan. SpoutMan's New Hero!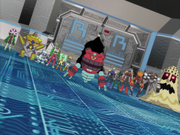 After deletion, BurnerMan was revived by Dr. Regal along with all of the other deleted Darkloids for the sole purpose of attacking the NetPolice and ensuring the destruction of Control X (which was being used by the NetSavers to help locate Regal's secret space satellite), but once again he is deleted by SearchMan. The Great NetPolice Battle!

---
PLEASE NOTE:

THE FOLLOWING INFORMATION IS ABOUT MATERIAL THAT WAS NOT LOCALIZED OR DUBBED OUTSIDE OF JAPAN OR OTHER COUNTRY, AND USES THE ORIGINAL TERMS AND NAMES.
---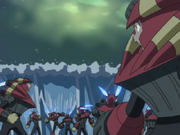 Multiple copies of BurnerMan appear as part of the Darkloid army, but they are eventually deleted. Space-Time War

---

END OF UNLOCALIZED MATERIAL.
---
Abilities
Attacks
List of appearances
Gallery
Concept art
Screencaps
MegaMan NT Warrior Axess
Rockman.EXE Stream
Trivia
TBA