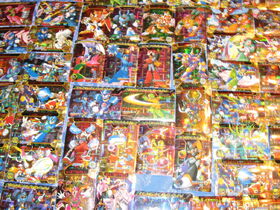 Several type of cards from the Mega Man series.
Trading Card Games
Carddass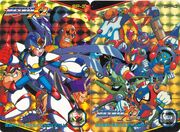 Carddass, also known as Carddas, is the name given to Bandai's card vending machines and the cards obtained from them. All Rockman Carddass where released only in Japan. Most cards were sold in two types of vending machines, "Carddass 20" that released one card for 20 yen, and "Carddass 100" that dispensed five cards for 100 yen.
Rockman: Six series of Carddass with a total of 252 cards containing images from Rockman 1-7 and Rockman World 1-5.
Rockman X: Three series of Carddass, each from one of the first three Rockman X games, having a total of 126 cards.
Rockman X Revival: 84 cards from Rockman X and Rockman X2.
Rockman X Mega Mission: Four series of Carddass with original characters and stories.
Jumbo Carddass: Bigger cards. Two series of Carddass, one from Rockman X and other from Rockman X Mega Mission, containing nine cards each.
Jumbo Carddass Chip Shooter: A Jumbo Carddass that comes with 15 chips (pogs) each. There are 6 cards with 90 different chips from Rockman X1-3 and 3 cards with 45 chips from Rockman X Mega Mission.
All Capcom World '98: A series of Carddass from 1998 featuring several Capcom characters, including the Mega Man series.[2]
Barcode cards
Cards with barcodes that are used to play.
Super Barcode Wars: A Japanese handheld game system with a barcode reader released by Bandai that had a series of compatible cards from different media such as Gundam, Ultraman, and Dragon Ball Z released for the system. The game was very popular in Japan, and had a manga based on it, called Super Barcode Warriors. Card sets from the Rockman series where released for the system in 1992[3] and in the Super Barcode Wars Battle Game Set #5.[2]
e-Reader Modification Cards
Cards that can modify the content of games with a e-Reader.
Telephone cards
Promotional telephone cards:
Postcards and bookmarks
Capcom's retail store in Tokyo has a Rockman postcard.[6]
Sixteen Rockman 20th Anniversary postcards.[7]
e-sense Cards
e-sense Card (e‐センスCard, e-sense Card) is a line of special postcards sold for a limited period (usually one month) in Japan from March 2006 (esc-1) to May 2009 (esc-112). In 2007, two Mega Man e-sense Cards were released.
Rockman manga
Postcards and bookmarks with color illustrations by Hitoshi Ariga that came with the 2009 re-releases of the manga Rockman Megamix and the manga Rockman Gigamix for a limited time for people that pre-ordered them from the sites e-Capcom, Fukkan and Tanomi, each with a different postcard/bookmark.
Rockman Megamix vol. 1 and 2

Bookmark with the six Robot Masters from the first Mega Man game. The other side has a black and white picture of Mega Man.
Postcard with the 16 Robot Masters from Mega Man 2 and 5, with Quick Man highlighted. The other side has a monochrome version of the postcard below. The stamp area has Bright Man's head.
Postcard with the 16 Robot Masters from Mega Man 4 and 6, with Skull Man highlighted. The other side has a monochrome version of the above postcard. The stamp area has Star Man's head.
Rockman Gigamix volume 1[8]

e-Capcom
Bookmark with Proto Man, Shadow Man and Shade Man, with a small part of Mega Man and Roll visible. The other side has a black and white picture of Mega Man.
Fukkan
Postcard with the 16 Robot Masters from Mega Man 3 and 7, with Turbo Man highlighted.
Tanomi
Postcard with Plum, Ripot, Chest, Roll (inside Pop 'n Beat) and Ice Man. The other side has a monochrome version of the Fukkan postcard. The stamp area has a small image of Chest.
Rockman Gigamix volume 2[9]

e-Capcom
Bookmark with Mega Man, Roll, Cut Man and Elec Man.
Fukkan
Postcard with the nine Stardroids.
Tanomi
Postcard of the black and white photo of Light and Wily when they were young working in a robot.
Rockman Gigamix volume 3[10]

e-Capcom
Bookmark featuring Bass and Ring Man.
Fukkan
Postcard with a battle damaged Mega Man in space.
Tanomi
Postcard with Proto Man and Tango.
Rockman Megamix & Gigamix Box Set
Tanomi
A postcard with Mega Man, Proto Man, Dr. Light and Dr. Wily.
Rockman Maniax, Rockman 7 and Rockman 8



Fukkan
In 2011, Fukkan had a promotion were customers who purchase certain Rockman goods could receive one of three limited edition postcards, each illustrated by Hitoshi Ariga, Shigeto Ikehara, and Kōji Izuki.[11]



Tanomi and e-Capcom
Rockman 7 has two postcards, one with Mega Man, Rush, Auto, Beat, and Eddie, and the other with Super Mega Man, Bass and the Wily Capsule. The Rockman 8 manga comes with a postcard with Mega Man, Roll and Rush.
Rockman Megamix Vol. 1 and 2 (2015 release)
Others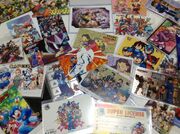 See also
References