Concrete Man (コンクリートマン Konkurītoman) is one of the Robot Masters from Mega Man 9 whose period of use had expired and was scheduled to be scrapped. Concrete Man is a construction robot built to be the supervisor of dam construction. He is stubborn and will tell off any lazy robots.
Strategy
He tries to stop the player with his Concrete Shot, jumps from the top of the screen and shakes the floor, which will make Mega Man stumble, or tackles.
Concrete Man's weakness is the Laser Trident due to its ability to penetrate most shielding. It can also cause critical damage to him, and can pierce through the blocks of the Concrete Shots.
Stage enemies
Appearance in other media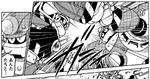 Concrete Man appears in the short Mega Man Megamix manga story "For Whose Sake?" included in the booklet of Rockman 9 Arrange Soundtrack.
Archie Comics
Concrete Man appeared in issue 17 of Archie Comics' Mega Man series, where he is competing with Guts Man. In the end, the two become friends and share some kareoke.
Trivia
During the ending credits of Mega Man 9, Concrete Man is shown with a hand replacing his blaster on his right hand while chasing Dr. Wily.
His stage name is a reference to the common phrase used to describe cities, "concrete jungle". Also, "Concrete Jungle" is the name of a few songs and music albums.
Concrete Man's artwork has blue eyes, while his mugshot has orange eyes because of color limitations. Additionally, the green chest gem in his artwork is white in his sprite.
His stage is the only one that's playable in the trial version of Mega Man 9. When the player reaches him, the moment his health goes up all the way, the trial ends.