---
PLEASE NOTE:

THE FOLLOWING INFORMATION IS ABOUT MATERIAL THAT WAS NOT LOCALIZED OR DUBBED OUTSIDE OF JAPAN OR OTHER COUNTRY, AND USES THE ORIGINAL TERMS AND NAMES.
---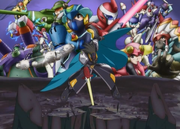 The Cross Fusion Members (クロスフュージョンメンバー, Cross Fusion Members) are a task force of 13 individuals who can perform Cross Fusion. Assembled by the NetPolice in Rockman.EXE Stream in response to the threat of Duo.EXE and the Asteroid Navis, they were all marked with the "Crest of Duo" and could see Duo's Comet, signaling that they were chosen by Duo for his trial, and that should they fail, the Earth would be annihilated. At the end of the season, Duo would deemed the test a failure and destroyed the planet, however Barrel performs Cross Fusion with Duo, helping him learn compassion for life and he restores the Earth.
The Cross Fusion Members sans Barrel reunite during the climax of Rockman.EXE Beast to fight off the Zoanoroid invasion on Earth, Dimensional Area Laboratory (episode) Colonel's Rampage however they are easily beaten when the Super Cyber Beast arrives. Netto later appears and destroys the beast easily, ending the threat of the Cyber Beasts and Zoanroids. Exceeding Light
This is the last time the team is seen fighting together, though in Rockman.EXE Beast+ all of the Cross Fusion Members make an appearance except for Barrel and Princess Pride, though many merely have cameos in the series finale.
Members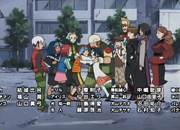 There is a total of 13 Cross Fusion Members.
Trivia