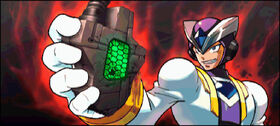 A DNA program (DNAプログラム, Dīenuē Puroguramu), also referred as DNA data (DNAデータ, DNA data) or simply DNA, is a program that makes up the characteristics of a Reploid.[1]
Characteristics
DNA data obtained from powerful Reploids can be analyzed and utilized by X's Variable Weapon System and Zero's Learning ability to grant them new abilities.[2] New Generation Reploids like Axl can copy the DNA of other Reploids and take their shape and abilities. DNA can also be used to create power-up items for Reploids.[2] Furthermore, by utilizing DNA Programs, the revival of deceased Reploids becomes possible, but DNA resurrection is prohibited.[3]
History
In Mega Man Xtreme 2, the DNA Souls of Reploids are stolen by Berkana and Gareth.
In Mega Man X5, DNA programs of the eight bosses are used by X and Zero to obtain Special Weapons and techniques. If the bosses have a high level, their DNA can also be used to create Power-up Parts.[2]
In Mega Man X6 the scientist Gate found a piece of Zero in Eurasia's remains and used its DNA to created the Nightmare Virus and Hi Max. It is revealed that the Nightmare Virus can change DNA and AI programs. By changing these programs, the Nightmare causes both physical and mental changes in Reploids.
In Mega Man X7, Sigma convinces Red to take Axl's copied DNA data to increase the power of the Red Alert, but by doing so Sigma also takes control over Red Alert and forces them to go after Axl, who had run away. Sigma plans to use Axl to obtain the DNA of X. Axl can copy the appearance and abilities of enemies by taking their DNA Core.
In Mega Man X8 it is also implicated that the Sigma Virus changes DNA programs similar to the Nightmare; Alia explained that the Copy Chip makes New Generation Reploids resistant to viruses because it changes Reploid DNA.
In Mega Man X: Command Mission, Spider/Redips is strongly implied to have utilized DNA programs to transform as a New Generation Reploid. In addition, Axl investigated the production of the copy chips in Giga City.
Trivia
References
Community content is available under
CC-BY-SA
unless otherwise noted.