Dead Rising (デッドライジング, Deddo Raijingu) is a survival horror video game series by Capcom set in an open world environment. The series contains several references to the Mega Man franchise.
Games
List of games with Mega Man cameos.
Video game
Consoles
Release
Summary
Mega Man cameos
Dead Rising
Xbox 360
2006
The first game in the series. Photojournalist Frank West ends up trapped in a shopping mall that is infested with zombies.
The toy shop Child's Play contains large Servbots. Also, items in the game include Servbot masks (which appears in all games from the series), a Mega Man outfit (although it is actually Mega Man X, not the original Mega Man), a toy Mega Buster, and the Real Mega Buster.
Dead Rising: Chop Till You Drop
Nintendo Wii
2009
A remake of the original Dead Rising.
Same as Dead Rising, with the addition of a "Tenue Roll" outfit.
Dead Rising 2: Case Zero
Xbox 360
2010
An Xbox 360-exclusive download that serves as a prequel for Dead Rising 2.
Proto Man appears in a Cardboard Cutout.
Dead Rising 2
Xbox 360,
PlayStation 3,
PC
2010
The second game in the series. Set in Fortune City, five years after the events of Dead Rising, the game follows former motocross champion Chuck Greene trying to keep his infected daughter alive.
Like the first game, a movie theater features a Mega Man movie, and it contains a Proto Man cardboard cutout. The travel agency called Wily Travels is named after Dr. Wily, and its description is a reference to the Mega Man 2 Robot Masters: "Take to the air, quick as a flash! Visit the deserts, forests, and oceans of the world. Come crashing by our office and steel yourself for the adventure of a lifetime!". Chuck's daughter, Katey, pass most of the time playing Mega Man, and Mega Man music can be heard from her handheld in one scene. The Yucatan Cassino has Mega Man 10 slot machines.
Dead Rising 2: Case West
Xbox 360
2010
A second Xbox 360-exclusive download. The game sees the return of Frank West, the main character from the first Dead Rising game, and is set after Dead Rising 2, with Frank teaming up with Chuck.
The Lab Coat and Mad Scientist Hair makes the wearer identical to Dr. Wily.
Dead Rising 2: Off the Record
Xbox 360,
PlayStation 3,
PC
2011
A reimagining of Dead Rising 2, with that game's protagonist, Chuck Greene, replaced by Frank West of the first Dead Rising.
The game has a Proto Man costume.
Dead Rising 3
Xbox One
2013
The third game in the series. Set ten years after Dead Rising 2, the story follows a young mechanic named Nick Ramos and his attempt to survive a massive zombie outbreak.
A "Mega Man X" outfit representing X with his first armor is present.

In the DLC mode Super Ultra Dead Rising 3' Arcade Remix Hyper Edition EX Plus α, Sigma is one of Chuck Geene's costumes, and one of Frank West's costumes has an animated Servbot head. S Tank is one of the items in this mode.
Dead Rising Collection
Xbox 360
2014

A collection with five games:
Dead Rising
Dead Rising 2: Case Zero
Dead Rising 2
Dead Rising 2: Case West
Dead Rising 2: Off the Record


Same as the original releases
Dead Rising 4
Xbox One, Windows 10
2016
The fourth game in the series. Set 15 years after Dead Rising, Frank West, hero of the first game, is back in Willamette.
The shops Super Punch Comics, King Hiro Arcade, and Ja-POP! contain a Servbot mask, a Zero costume (named Mega Man Zero Costume), a Bass costume (named Bass Cross MegaMan Costume) and a Met helmet (named Mega Man Helmet). The Servbots, Mega Man, Proto Man, and Bass can also be seen in decorations in the shops.

A Zero Exo Suit representing Zero can be unlocked after completing the game.
Other games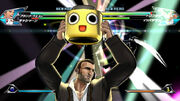 Frank West appears as a playable character in Tatsunoko vs. Capcom: Ultimate All-Stars, Ultimate Marvel vs. Capcom 3, Marvel vs. Capcom: Infinite, Project X Zone, and Puzzle Fighter, with one or more of his attacks containing a Mega Man reference, such as using a Servbot mask or the Mega Buster.
Gallery
External links
Community content is available under
CC-BY-SA
unless otherwise noted.