Raise a Floppa - The Loop
Play Sound
---
PLEASE NOTE:

THE FOLLOWING INFORMATION IS ABOUT MATERIAL THAT WAS NOT LOCALIZED OR DUBBED OUTSIDE OF JAPAN OR OTHER COUNTRY, AND USES THE ORIGINAL TERMS AND NAMES.
---
Dingo is a character in the Rockman.EXE anime series, debuting in Stream. He is the operator of TomahawkMan.EXE who attempts to sell wood carvings in Jyawaii before meeting Netto Hikari and the two become friends. From then on he became an employee of Maha Ichiban and eventually becomes a Cross Fusion Member. He is from a Native-American-esque tribe who worships a totem, and the childhood friend of Shanka. When merged with TomahawkMan he becomes C.F. TomhawkMan.
In Rockman.EXE Beast, Dingo becomes a main character throughout the season and is paired with Raika. In Rockman.EXE Beast+ is role is reduced to a supporting role again.
Overview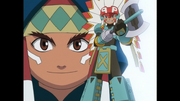 Unlike his Navi, Dingo is a rash, hotheaded, and impatient boy who often uses the "spirits" and his "instinct" (aka his tomahawk) to "guide" him. This often gets him and the people he is with lost and put in highly difficult situations (such as scaling mountains), and he is often late making deliveries while working at Maha Ichiban. Like Netto, Dingo has a ferocious appetite and can eat his weight in food, often competing in eating or cooking competitions with Netto and others. Dingo has a strong sense of justice and fights alongside Netto and his friends without question to do what is right, though he often gives TomahawkMan impulsive orders that sometimes makes the situation harder. Despite the two's contrasting personalities, they share a close bond that allows them to cross fuse.
As shown when Shanka describes their childhood, Dingo is actually quite resourceful and talented, having once made a fire and "cut" the smoke with his tomahawk, spelling out the letters "SOS", something he also did later while in captivity by the Neo WWW. He is also apparently a skilled martial artists according to Shanka, though this is never seen.
History
He debuts in episode 12.
He appears in episode 22.
This film takes place between episodes 22 and 29 of Stream. Episodes 29 and beyond are summarized after this section.
Dingo enters into a tournament with the others and wins his match immediately after Netto Hikari, and he, Netto, Meiru Sakurai, Tohru Hikawa, Dekao Oyama, and Chisao Oyama check out the Thousand Amusements building before he drags Dekao with him to check out the eating competitions. Later, he and the others cheering Tohru and Meiru on during the tournament match, and after they win he stands with them as Meiru calls Netto to tell him they won before he is dematerialized and turned into data with everyone else, devastating Netto.
When Rockman.EXE and Forte.EXE defeat Dr. Regal and Nebula Gray, he and the others are restored as they stand confused about what happened. They then all go run to meet Netto.
Stream cont.
He appears in episode 33.
He appears in episode 14.
TBA
Trivia
TBA