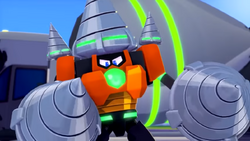 "The name is Drill Man!... but I was born with music in my heart."
―Drill Man, Drilling Deep
Drill Man is a character from Mega Man: Fully Charged.
Appearance
Drill Man resembles his original counterpart, but bulkier. Moreover, his face is built directly into his torso, much like Air Man, and in addition to the three drills on his arms and head, Drill Man has two smaller drills on his shoulders.