Raise a Floppa - The Loop
Play Sound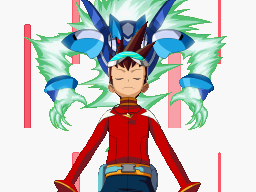 An EM Wave Change, known as a Radio Wave Change (電波変換, Radio Wave Change Denpa Henkan) in Japan, is performed when an EM being merges with a human in the Mega Man Star Force series. This creates a more powerful EM being that is able to interact with both other EM beings and regular humans.
Characteristics
During EM Wave Change, the human becomes part of the Wave World, and is thus subject to the same rules as other EM beings. The EM being is then able to give its powers to its compatible human, and the human is able to use Battle Cards as actual weapons.
In the anime, an EM Wave Change is more stable and successful if the EM being is merged with a host that has similar frequencies as the EM being, as a lack of compatibility can hinder their control and their battle strength. However, this can be bypassed by EM beings if they forcefully subjugate the human consciousness and assume complete control over them. However, even then, they would not be able to reach the full extent of their powers from the EM Wave Change, unless the EM being is able to enter their wave form without a human host, which the FMians were able to do thanks to Cygnus' device.
In the games, the FM-ians needed to perform an EM Wave Change due to how they are not as strong on Earth as they are on Planet FM. Unlike the anime, the EM beings could partner up with virtually anyone, though the FM-ians and Murian UMAs were still influencing their hosts to become more violent and power-hungry. What attracts some EM beings to the humans would be their negative emotions, such as loneliness for most of the FM-ians' case.
Fusion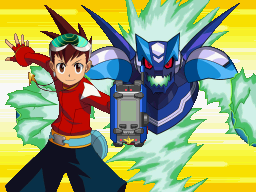 During an EM Wave Change, the EM body and human are combined into one body with the consciousness of both, but it appears that only one of them control body, or at least part of it, as seen with Geo Stelar controlling his body while Omega-Xis controls the arm. Some EM beings, mostly FM-ians, will try to take their human partner as a host body, and attempt to subdue their human's consciousness completely, though this process can take time even if their bodies have fused (and it sometimes just freezes if the two are resisting the fusion[Citation needed])
However, even if the EM being subjugates the human consciousness, if the human should possess a strong enough will, they can suppress the EM being instead, or completely expel them from their minds even.
Solitary
In Mega Man Star Force 2 and during the Tribe season of the Mega Man Star Force anime, Solo is shown being able to EM Wave Change without the aid of an EM being from which to borrow his power. Through simple willpower, and the effects of an "ancient Star Carrier," this allows Solo to become the EM being Rogue. However, he gains his own EM body named Laplace in Mega Man Star Force 3. Laplace, however, does not aid in Solo's transformation, he becomes a very powerful sword. In the anime, Solo showed the same power, but did not seem to truly need the Star Carrier to perform it, the ability seemingly coming from being a Murian, who developed advanced technology far beyond that of Earth's.
Transcoding
During the third game, the method of Wave Changing was changed. Because EM beings were converted into Wizards due to the Hunter-VG, they were unable to EM Wave Change in the normal way. Instead, Wizards could only fuse with their human counterpart using the Transcode, which instead of normal EM Waves, used the Satellite Server, which WAZA has built, and has registered every human who is able to EM Wave Change in a project known as Project-TC. Transcode resembles Cross Fusion more than EM Wave Change, because the Transcode uses data, rather than simple EM waves.
History
In the first and second game, the protagonists Geo Stelar and Omega-Xis have to find spacial distortions (signified by orange portals named waveholes) to pulse in and become Mega Man. It is not shown whether other willing characters have the same condition, although some characters appear to be able to Wave Change in any location when forced or by using an ancient Star Carrier from Mu.
In the anime and manga, however, any EM being and their compatible human can EM Wave Change by shouting the phrase "EM Wave Change! [Name], On-Air!" in a similar way to the Megamerge technique.
In the third game, Geo (and all others who have the ability) can Wave Change in any area, however the method has changed. Upon Wave Changing for the first time in the game, the Wave Changed being is assigned a "Transcode" and an ID number (Mega Man's is 003), as well with a Code Name (For Mega Man in the Japanese game, the Code Name was "Shooting Star") that is assigned from the Satella Police. After that, the user must shout, "Transcode! (name of Wave Change form)!" in order to transform. Accessing the Wave Road is done through a Wave Station, which in previous games was done by wave changing in a wavehole.
Unregistered, and thus illegal Wave Changes still use the old phrase, however.
List of EM Wave Changes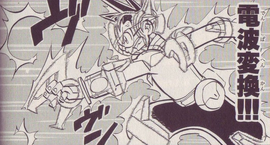 Trivia