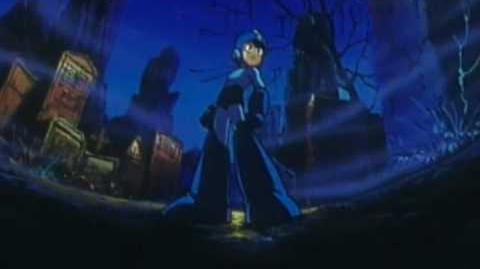 Electrical Communication is a song by GANASIA used as the opening theme from the games Rockman 8: Metal Heroes (Japanese version) and Super Adventure Rockman.
Lyrics
Original / Romaji Lyrics
English Translation
ELECTRICAL COMMUNICATION

Hikisakarete 'ru IMAGINATION Mirai shibaru kairo hodoite

ELECTRICAL COMMUNICATION

Tearing through IMAGINATION Break free from the circuits binding the future

Chikagoro hayari no dejitaru seigo

Maruchimedia ni Good morning YEAH! Shooto shisou na atama wo kakaete Kimi no koe mo kiete shimaisou sa

Recently digital is in

To multimedia Good Morning YEAH! Hands on my head It's about to short circuit Even your voice seems to fade away

Soto wa Hora shibireru denpa Wasureta yume ga samayou

Shiranai uchi toki wa sugite yuku Kimi no naka ni boku wa iru?

Hey look There outside Forgotten dreams wander by

Without knowing it time has passed Am I in you?

* Kaeru basho sagashite 'ru pikaiya no idenshi waNami ni norezu umorete 'ku
* I search the place to return to The genes get buriedLeft by the waves
** ELECTRICAL COMMUNICATIONHikisakarete 'ru IMAGINATIONDare ni mo jama sasenaiSpark shite 'ru ROCK ACTIONUchikudake MEDITATION

Kurutta ima wo yakisutetai

** ELECTRICAL COMMUNICATIONTearing through IMAGINATIONLet noone get in your waySparking ROCK ACTIONWreck it MEDITATION

Abandon the crazy present

Dare mo ga moraru to tatakatte iru ki ga tsuite 'ru nayande 'ru

Modokashii hodo kono yo ni amaete kimi ga doko ka toozakaru Tamerai wa nomikonde ashita no POWER ni suru Hoshi ni negai matsu hito ni Futari dake no shigunaru sora yurugase Tobasou

Everyone's up against morals I've noticed I'm bothered

Spoiled by this world you're going afar towards some place Swallow hesitation and turn it into POWER To the one who waits on his wish upon the stars That's solely our signal Shake the skies Let's fly

*** ELECTRICAL COMMUNICATIONIshiki wo keshite IMAGINATIONKoko kara nigedasenaiSpark sasete ROCK ACTIONYojigen MEDITATION

Mirai shibaru kairo hodoite

*** ELECTRICAL COMMUNICATIONErase your consciousness IMAGINATIONCan't get away from hereMake it spark ROCK ACTIONFourth dimension MEDITATION

Break free from the circuits binding the future

* Repeat ** Repeat *** Repeat
Trivia
When playing the Japanese version of Mega Man 8 in western versions of Mega Man Legacy Collection 2, Electrical Communication doesn't play. Instead, it plays the international intro theme from said game. This theme is however retained on Japanese versions.
Videos
References
Community content is available under
CC-BY-SA
unless otherwise noted.