Arcane: League of Legends - The Loop
Play Sound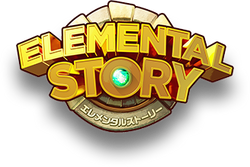 Elemental Story (エレメンタルストーリー, Elemental Story), "EleSto" (エレスト, "EleSto") for short, is a freemium puzzle role-playing game by StudioZ released for Android on January 16, 2015 and for iOS on June 1, 2015.
In 2019 the game had a Mega Man X collaboration from October 31 to November 20.[1]
Mega Man X content
During the event period, X is given as a gift in the login bonus, the heroes (Ultimate Armor X, Full Armor X, Zero, Axl and Alia) are available in the gacha, and the villains (Sigma, Vile, Dynamo and Shadow Devil) are rewards from a Mega Man X themed event stages. Three Mega Man X weapons and a "Black Zero Skin" are also available in the event stages, being exchange by points shaped like Sub Tanks and Life Ups.
Characters
Weapons
Weapon
Data
Skill
X-Buster
(エックスバスター)

No. 431
Rarity: 5
Attribute: Water
Use Count: ∞
Charge Turn: 5 (start) / 3 (max)
After a piece operation, add 250 (min) / 3000 (max) damage to the next skill attack. (Starts charged)
Zero Buster
(ゼロバスター)

No. 432
Rarity: 5
Attribute: Fire
Use Count: ∞
Charge Turn: 5 (start) / 3 (max)
After a piece operation, add 250 (min) / 3000 (max) damage to the next skill attack. (Starts charged)
Z-Saber
(ゼットセイバー)

No. 433
Rarity: 5
Attribute: Fire
Use Count: ∞
Charge Turn: 0
Adds an attack, performing 2 (min) / 3 (max) consecutive attacks with the weapon. (Not triggered with skills)
Gallery
External links
References