FridgeMan, known as ColdMan (コールドマン, Kōrudoman) in Japan, is an antagonist in MegaMan NT Warrior Axess. One of the Darkloids spawned from darkness under ShadeMan, FridgeMan fights against MegaMan and his friends as he tries to tear down the world to make it a place solely for Darkloids.
Overview
TBA
History
FridgeMan is a Darkloid who had once served under the leadership of ShadeMan, but in due time, he switches allegiances and pledges his loyalty to LaserMan after the latter had defeated and overthrew the former in order to become the new leader of the Darkloids. FridgeMan, SwordMan, BrightMan and NovaMan team up to cause trouble on the Net when MegaMan is badly injured by Dark ProtoMan. However, Raoul, ThunderMan, Raika, and SearchMan fight them. Although they were at a disadvantage with four versus two, they manage to drive them off by deleting BrightMan. Nebula's Great Invasion!
Later, FridgeMan and SwordMan go to a desert with a huge castle in it to enlist the help of MistMan. While searching, they get lost with Lan and Maylu. After finding MistMan, FridgeMan and SwordMan are deleted by him in a battle. MistMan's Tower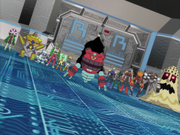 After deletion, FridgeMan was revived by Dr. Regal along with all of the other deleted Darkloids for the sole purpose of attacking the NetPolice and ensuring the destruction of Control X (which was being used by the NetSavers to help locate Regal's secret space satellite), but once again he is deleted by SearchMan. The Great NetPolice Battle!

Abilities
List of appearances
MegaMan NT Warrior Axess
Trivia
Screencaps
MegaMan NT Warrior Axess
See also