Mega Man collections with few or no changes to their original versions. (All released in japan)
Rockman Collection Special Box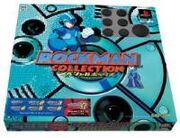 Rockman Collection Special Box is a box set that was released by Capcom only in Japan in December 2003.
The specially designed box gathers together all the first six Rockman games from their Rockman Complete Works PlayStation remake, Rockman X7 and seven shiny pin-badges.
Rockman DASH / Rockman DASH 2 Value Pack
Rockman DASH / Rockman DASH 2 Value Pack (ロックマンDASH / ロックマンDASH2 バリューパック, Rockman DASH / Rockman DASH 2 Value Pack) is a compilation of Mega Man Legends and Mega Man Legends 2 released for PlayStation Portable in Japan in January 2009. The games are the same as their separate PSP versions.
Rockman Power Battle Fighters

Rockman Power Battle Fighters is a port of the games Mega Man: The Power Battle and Mega Man 2: The Power Fighters for PlayStation 2 released only in Japan in August 5, 2004. This port contains a few extras like the Versus Mode, an Extreme Mode (a survival mode), and an unlockable "Extra Options" feature, which includes a region change feature. The collection was also released for PlayStation 3 (via PlayStation Network) in Japan on January 18, 2017.
Though this collection is available only in Japan, the two games are also available for PlayStation 2, Nintendo GameCube, and Xbox as part of the Mega Man: Anniversary Collection.
See also
External links
Community content is available under
CC-BY-SA
unless otherwise noted.