Gear Fortress (歯車城, Gear Fortress) is Dr. Wily's stronghold in Mega Man 11, replacing the Wily Fortress variants from the previous classic Mega Man games. Besides the skull motif common in Wily's fortresses, Gear Fortress uses gear motifs to tie in with the Double Gear System. It features two normal boss levels, a boss rematch level against the game's eight Robot Masters, and the final battle against Wily.
Gear Fortress Stage 1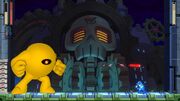 Gear Fortress Stage 1 takes place outside the fortress as Mega Man makes his way to the main entrance. Throughout the level, a recurring gimmick has Mega Man jumping across large bottomless pits via rotating gear platforms. Some of these platforms are rusty and will fall down seconds after Mega Man touches them. Yoku Blocks also make their only appearance in the game here.
Enemies
Gear Fortress Stage 2
Gear Fortress Stage 2 is inside the fortress and sees Mega Man breach a grueling onslaught of the fortress's interior defense systems, including Skull Rollers, moving walls that kill on contact, and Skull Pillars, giant pillars with laser cannons that have to be destroyed in order to knock them down. The giant pillars are weak against Chain Blast and Pile Driver, where a Power Gear-infused attack with either of these weapons can take them down in one hit.
Enemies
Gear Fortress Stage 3
Gear Fortress Stage 3
 is deeper inside the fortress.
 This is a short stage that features the obligatory boss rush.
After defeating each Robot Master, a Large Energy Capsule appears to refill the player's health. However, in Superhero Mode the Energy Capsules don't appear, so it is recommended to bring Energy Tanks to help if necessary.
Enemies
Gear Fortress Stage 4
Gear Fortress Stage 4
, as the final stage, takes place in the core of the fortress. It entails a short platforming section that leads up to the final showdown with Dr. Wily.
Enemies
Trivia
Gallery
Community content is available under
CC-BY-SA
unless otherwise noted.