"My Gemini Laser is unparalleled. Your power, one that I thought even rivalled my own, is merely this?"
―Gemini Man, Super Adventure Rockman

Gemini Man (ジェミニマン, Jeminiman) is a Robot Master from Mega Man 3, created by Dr. Light and Dr. Wily. He is capable of creating holographic copies of himself, and uses that power to confuse and overwhelm his opponents as he attacks them. While he only uses one copy in most of his appearances, in Super Adventure Rockman he is shown to be able to produce up to four copies of himself at once. However, even without his clones helping him, he is a very tricky opponent to deal with- especially when he brings his Special Weapon, the fast and reflective Gemini Laser, into play.
Gemini Man is an elegant fighter who is confident in his abilities, but is rather conceited. He is a narcissist, and likes to admire himself in a mirror or with one of his copies. Gemini Man also has a hatred and fear of snakes, mainly because his weakness is the Search Snake.
Video game appearances
At the start of the battle, Gemini Man will create a mirror image of himself. He and his clone will take turns jumping to the left side of the screen, running to the right, then repeating. Firing shots will cause the clone on the ground to turn around and fire at you, while the other freezes in mid-air. It is best to shoot at the clone in the air as he is about to land, then jump to avoid the bullets of the other Gemini Man.
Once the clone is defeated (it will be destroyed when half of Gemini Man's health is depleted), Gemini Man will change his pattern and begin firing his Gemini Laser. This laser reflects off of the walls, so you'll have to keep an eye on it while looking out for Gemini Man. His new pattern will be running from left to right and jumping when Mega Man fires at him, similar to Crash Man's.
Gemini Man is one of the first four bosses. His actions are the same from Mega Man 3.
Gemini Man is a fast player that don't has his own team. In Tournament mode he is a member of the Fire Man, Wood Man, Needle Man, Dust Man, Skull Man, Enker, and Wily teams. In League mode he is in the teams of Elec Man, Wood Man, and Pharaoh Man.
"Attack calmly and avoid the illusions. To tell you the truth, Gemini Man is weak against heat."
―Dr. Light, Mega Man 2: The Power Fighters

Gemini Man is one of the six bosses from the "Mega Man 3~6" course in Mega Man: The Power Battle and the "Recover the new parts!" course in Mega Man 2: The Power Fighters. Like Mega Man 3, Gemini Man will start the battle by creating a clone of himself. The first pattern is almost identical to his first pattern in Mega Man 3. They take turns jumping to the left, running to the right, and repeating this.
After Gemini Man reaches half health, the clone will disappear. Gemini Man will then slowly walk around the arena. He will occasionally attack by firing a shot or using his Gemini Laser. He will also jump around and use a shield to defend against attacks. Besides this, in Mega Man 2: The Power Fighters he'll also be able to create dimensional rifts to summon Tsuranattoris to his aid. This is known when his forehead refracts light, similar to his entrance animation. He is weak to Magnet Missile in Mega Man: The Power Battle and Pharaoh Wave in Mega Man 2: The Power Fighters.
Gemini Man is the last opponent encountered in Episode 2, fought by Mega Man just before he tries to enter the Temple of the Moon. During his introduction cutscene, he demonstrates his cloning powers to a confused Mega Man and Beat from the steps of the temple, simultaneously attacking them with many Gemini Lasers. Mega Man is eventually able to decipher which one is the real one, allowing the two to battle, with Mega Man coming out victorious.
After the battle, Gemini Man is critically damaged, but tells Mega Man that he learned from Quick Man about Doctor Wily's dangerous new ambitions. In order to help Mega Man, he warns him that the door at the top of the temple is booby-trapped, and explains that the door in the middle of the temple is the real entrance, just before collapsing. He is later revived by Wily and Ra Moon, but is disabled again after Ra Moon's betrayal.
Other appearances

Data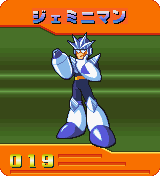 • CD data •
English data
He can create an alter ego with a hologram. He is also a narcissist.
"My clones are very impressive."
Good Point:
Elegant
Bad Point:
Overconfidence
Like:
Mirror
Dislike:
Snake
Japanese data
He can create an alter ego with a hologram. His Gemini Laser weapon can reflect on walls. A bit narcissist.
"Hmm, this gloss is wonderful."
Good Point:
Elegant
Bad Point:
Strongly conceited
Like:
Mirror, shiny things
Dislike:
Snake
敵の「しこう」にはんのうするジェミニレーザーが武器。敵の動きをよくみて攻撃しよう。
Power Battle: ホログラフそうちをつかってあたかもぶんしんしたようにこうげきをしかけてくる。れいせいだが、はでずきなところがある。とくしゅぶきはジェミニレーザーじゃ。
Power Fighters: PBにもとうじょうしたジェミニマンはロックマン3からとうじょう とくしゅぶきのジェミニレーザーはもともとはワシのはっけんした「はんのうそし」をかそくかさせたレーザーじゃ。あいてのしこうにはんのうするため、しこうをもたないぶっしつにあたるとはんしゃするせいのうがあるのじゃ。
Translation:
Power Battle: Uses a holographic system to attack with alter egos. He is calm and somewhat showy. Special Weapon is Gemini Laser.
Power Fighters:
Stage enemies
Enemies in Gemini Man's stage in Mega Man 3.
Enemies in Gemini Man's stage in the Game Boy Mega Man III.
Bomber Pepe
Mechakkero
Penpen Maker
Penpen
Pole
Yambow
Damage Data Chart
Amount of damage in units that Gemini Man receives from each Special Weapon in Mega Man 3.
Mega Man 3
Mega Buster
Needle Cannon
Magnet Missile
Gemini Laser
Hard Knuckle
Top Spin
Search Snake
Spark Shock
Shadow Blade
1
1
2
4
2
2
5
1
2
Other media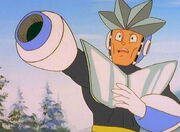 Gemini Man appeared in the episode Cold Steel of the Mega Man animated series, where he, Spark Man and Gyro Man are disguised as rock stars from a band called "Cold Steel" that hypnotizes humans with their music. Gemini Man appears having a nose and does not clone himself. Instead, he uses his Gemini Laser. He is voiced by Tony Sampson.
Mega Man Megamix
Gemini Man appears in the manga Mega Man Megamix and Mega Man Gigamix.
Dr. Wily used Ra Moon to create Gemini Man during the story arc Spiritus Ex Machina. However, Gemini Man was not solely a product of Wily's genius, but had in fact been co-designed by Wily and Dr. Light. He harassed Knuckles the Echidna and Rouge the Bat during the Robot Masters battle in Worlds Collide with his afterimage abilities, although he was stunned by Dr. Light's makeshift arm cannon.
In Part 3 of the "Curse of Ra Moon" arc, Gemini Man is among the Robot Masters that Mega Man come across when seeking Ra Moon, though he seemed ready to back down when the latter explained that Ra Moon's EMP field threatens humanity's existence. Unfortunately, Gemini Man is soon brought under complete control by the super computer along with the other Mega Man 3 Robot Masters. Despite that, his hologram copy retained control over his own mind until he disappeared back into the original. He and his brothers were forced to battle the Mega Man 2 line of Robot Masters and Mega Man's team until Ra Moon was destroyed by Mega Man, freeing them. After successfully recruiting Shadow Man, who had been loyal to Ra Moon, Gemini Man and his brothers stole the Energy Elements from Dr. Light's Gamma robot during its unveiling. Gemini Man stations himself on a mining asteroid that was used for algae growth, using his holographic duplicates the reflective robot is briefly able overwhelm Mega Man, until he switches to the Search Snake weapon Mega Man to find the real one and bring him down, but not destroy him. Gemini Man then appears to give up but this only to bring Mega's guard down so another duplicate can shoot the Blue Bomber in the back.
After defeating Snake Man, Mega Man goes underground and fights against Gemini Man, defeating him with Search Snake.
Gemini Man has brief appearances as a member of the Wily Patrol.
Gemini Man appears in some of the shorts.
Gallery
Artwork
Screenshots
Video
Gemini Man Battle (no damage, no slide, no weakness)
Trivia
Gemini Man was the first Mega Man boss to be named after something astrological, in this case a constellation.

This may also be the reason why the initial part of his stage resembles an alien world, like those found in space.
In Gemini Man's NES mugshot, his eyes are red, where as his official artwork depicts him with green.
Gemini Man, along with Freeze Man and Skull Man, does not attack the player and remains stationary when the player does nothing upon entering the boss room. The battle will start when the player either shoots or jumps.
Community content is available under
CC-BY-SA
unless otherwise noted.