"Jack in, MegaMan! Power Up!"
―Lan, MegaMan NT Warrior

Lan Hikari, known as Netto Hikari (光 熱斗, Hikari Netto) in Japan, is the NetOp of the NetNavi MegaMan.EXE and the main protagonist of the MegaMan NT Warrior anime series. A fifth grader at ACDC Elementary School, Lan joins his friends Maylu Sakurai, Dex Oyama, Yai Ayanokoji, and Tory Froid in battling the World Three. He is the only son of Yuichiro and Haruka Hikari.
Overview
Lan is a young and headstrong, often letting his achievements and victories get to his head and making him over confident, leading to his judgement being clouded. However he has shown to be sharp and strategic when the situations calls for it, bringing unexpected victory against an opponent when they believe they have the upper hand. His impressive show of skill lead him to be recruited as a Net Savior.
As the series progresses, Lan matures and gains a level head, no longer rushing into situations over confidently or without thinking and working alongside his comrades to tackle situations, as well as asking and taking advice from others.
Despite his short temper, Lan is loyal and kind to not only his friends, but most others he meets during his journeys, even his enemies, leading to him making many friends and allies. He is the childhood friend of Maylu, who shows romantic interest in him, though he is oblivious to it. Over time, he makes friends with rivals Chaud Blaze and Raika and the three make a team.
History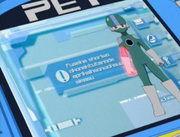 Lan appears in the first episode of the series with a NormalNavi, which, though he shows great skill with, is unfit for Net Battles and he often loses to his then-rival Dex Oyama and his NetNavi GutsMan.EXE. However, on his tenth birthday, his father, Yuichiro Hikari, comes through on his promise to make Lan a custom NetNavi, MegaMan.EXE. Despite his initial reprehension of MegaMan, thinking he was small and weak, MegaMan showed great prowess in defeating GutsMan and later, Mr. Match's NetNavi TorchMan.EXE, and the two become fast friends.
---
PLEASE NOTE:

THE FOLLOWING INFORMATION IS ABOUT MATERIAL THAT WAS NOT LOCALIZED OR DUBBED OUTSIDE OF JAPAN, AND USES JAPANESE TERMS AND NAMES.
---
In episode 43, Netto attempts to befriend the new transfer student, Kyuta Hoshida, the son of famous baseball player Kyuma Hoshida, though he runs off after Netto notices he had been crying. Later when Netto and his friends bring back a baseball Kyuta had dropped when Netto offered to walk home with him, his mother explains Kyuta is forced to move when his father trades teams, and he doesn't get to make many friends, though he had become friends with his old school's baseball team. Netto, his friends, and Kyuta's parents arrange to have Kyuta's old team play a game of NetNavi Baseball with Kyuta and his old team against Netto and co.
---
END OF JAPANESE ONLY MATERIAL.
---
Early on in the series, Lan shows great potential in Net Battling after stopping the Darkloid FlashMan.EXE, and is recruited as a Net Savior. As the series progresses he meets many other Net Saviors, such as Gorou Misaki and PrismMan.EXE, Raika and SearchMan.EXE, and even Chaud Blaze and ProtoMan.EXE.
---
PLEASE NOTE:

THE FOLLOWING INFORMATION IS ABOUT MATERIAL THAT WAS NOT LOCALIZED OR DUBBED OUTSIDE OF JAPAN, AND USES JAPANESE TERMS AND NAMES.
---
TBA
TBA
TBA
TBA
Powers and abilities
Lan, despite being human, gains abilities when cross fused with MegaMan, obtaining roughly the same powers as him, though due to cross fusion straining Lan already, he cannot hold these forms nearly as long or as well as MegaMan.
Cross Fusion - Performed with MegaMan. Lan forms an "armor" of MegaMan on himself, allowing him to fight enemies in the real world with the assistance of a Dimensional Area.
Double Soul - Used once against Dr. Regal. Lan as C.F. MegaMan can use Double Soul, however as explained in the Japanese version of the show, using Double Soul while being cross fused puts a massive strain on Lan and rapidly drains him of his energy.
Beast Out - Used against the Super Cybeast, dubbed "Beast Form Cross Fusion Rockman" (獣化クロスフュージョンロックマン, Juuka Kurosu Fyūjon Rokkuman).
Forms
C.F. MegaMan first uses Metal Soul while confronting Dr. Regal, which enhanced his strength and durability, allowing him to defend against being crushed by C.F. LaserMan's fist.
C.F. MegaMan countered C.F. LaserMan's Star Break Laser with Torch Soul's Fire Arm. Lan notes the power of Double Soul, but begins to tire as using Double Soul whille cross fused rapidly drains his energy.
Gallery
Trivia
In the anime, MegaMan is not Lan's brother Hub, and there no mention of him over the course of the series.
Lan's favorite food is curry. He frequents the World Three curry-shop MaHa Ichiban, and in Rockman.EXE Beast both participates in and judges curry contests.
Lan created the precursor to the wireless jack-in port.
Lan's worst subject is math.
Community content is available under
CC-BY-SA
unless otherwise noted.