Raise a Floppa - The Loop
Play Sound
MagnetMan.EXE (マグネットマン, Magunettoman) is the NetNavi of Gauss Magnus and later his daughter Tesla and former antagonist in the MegaMan NT Warrior anime series. Originally a member of Grave alongside Gauss, after the two were arrested, he was taken from Gauss by Tesla, who became MagnetMan's operator from then on.
Overview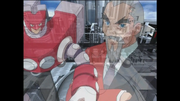 Like his video game counterpart, MagnetMan was a member of Grave and was operated by Gauss as the two wreaked havoc on the world before he would eventually come under the ownership of Tesla. However, the circumstances of how MagnetMan come under the ownership of Tesla is different. In the video games, Tesla comes to operate MagnetMan after Gauss is arrested, with the two of them later joining Team ProtoMan after nearly killing Lan's friends. In the anime, Tesla forcibly takes MagnetMan from Gauss, with MagnetMan himself resuming his criminal ways with her as a member of the Neo World Three.
History
MagnetMan is first operated by Gauss during the course of the second half of MegaMan NT Warrior. He and ElecMan have a rivalry and have battled against each other a few times, as do their operators Gauss and Count Zap. He first appeared in episode 34 switching bank accounts, causing Higsby to become wealthy and Yai becoming poor. MagnetMan is later deleted by MegaMan using Aqua Custom Style and a Program Advance due to interference by ElecMan, who is deleted with him in the process.
TBA
---
PLEASE NOTE:

THE FOLLOWING INFORMATION IS ABOUT MATERIAL THAT WAS NOT LOCALIZED OR DUBBED OUTSIDE OF JAPAN OR OTHER COUNTRY, AND USES THE ORIGINAL TERMS AND NAMES.
---
During the events of Rockman.EXE Stream, he is broken out of captivity by Asteroid FlashMan. His new operator is Tesla, the daughter of his original operator Gauss. He is the only Navi in the Neo WWW who does not have an Asteroid origin. Tesla gained the ability to use Cross Fusion with MagnetMan during the events of Stream.
---
END OF UNLOCALIZED MATERIAL.
---
Abilities
"Magnetic Waves" - MagnetMan can uses magnetic waves to scramble electronics, such as bank accounts.
Magnet Eruption - MagnetMan launches a magnet-shaped missile at his opponent.
Magnet Ball - MagnetMan shoots a ball of electricity from his hands.
Magnet Line - MagnetMan summons a magnetic line along the ground that pulls his opponent down.
North/South Tackle - MagnetMan produces a blue version of himself. The two become balls and pincer their opponent, smashing into them. The blue MagnetMan has a mind of his own.
List of appearances
Gallery
Trivia
TBA