Maverick Hunter is the codename of a cancelled first-person shooter based on the Mega Man X. It would have been a reboot to the series.
Summary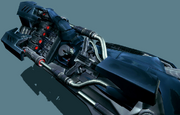 Maverick Hunter was cancelled in 2010 but was kept secret until April 9th 2013. It was going to be a darker Mega Man X game themed around a new X designed by Adi Granov. It was confirmed to be a re-imagining of Mega Man X, where the main character is X, but has a human police officer as a sidekick. It was also confirmed that a trilogy was planned, and by the third game in its series, Zero would be playable and forced to destroy X who had grown incredibly powerful and infinitely intelligent over the course of two games.
Videos
Trivia
The concept of X becoming too powerful and ultimately becoming the main antagonist, forcing Zero to stop him, is an allusion to how X was originally going to be the main antagonist of the Mega Man Zero series before being replaced by Copy X shortly before the first game was released.
External links
Community content is available under
CC-BY-SA
unless otherwise noted.