"Remember to get your calcium!"
―Maysa, MegaMan NT Warrior

Maysa, known as Masa (マサ, Masa) in the Japanese version, is a character in the MegaMan NT Warrior anime series. Despite portraying himself as a simple fisherman and salesman who doesn't have a clue about the world of NetNavis and the cyberworld, Maysa is actually a Net Agent under the disguise of Commander Beef and is the operator of SharkMan.EXE and a skilled Net Battler, as well as the superior of Sal and Miyu, who are also Net Agents. Maysa's catchphrase is "Take your calcium!" and is constantly reminding Lan Hikari and his friends to eat their fish and stay active.
Although he was a main character in the first two seasons of the anime, Maysa only appears in a single episode of MegaMan NT Warrior Axess before disappearing from the series altogether minus a cameo in Rockman.EXE Beast+, although a parallel world version of him appears in Rockman.EXE Beast.
Overview
In the anime, he is an energetic character who is obsessed with fish and fish facts. He has a bit of a temper when people don't listen to him and looks down on the electronic habits of young people (despite owning a NetNavi). He is also a strict taskmaster, forcing Lan Hikari and his friends to work out.
History
TBA
He appears in episode 32.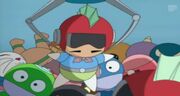 This is Masa's last true physical appearance in the show, though he makes a cameo in the next episode in his Commander Beef outfit along with Black Rose and Mysteriyu as a stuffed toy that Lan tries to win from a crane game, but he loses it.
---
PLEASE NOTE:

THE FOLLOWING INFORMATION IS ABOUT MATERIAL THAT WAS NOT LOCALIZED OR DUBBED OUTSIDE OF JAPAN, AND USES JAPANESE TERMS AND NAMES.
---
Masa is mentioned by Netto.
A simulation of him appears.
Themes
Masa has two theme songs pertaining to him in the Japanese version of the anime. The first, "There Goes the Dashing Masa", is heard during Masa's general appearances throughout the show. The second, "Charge! Commander Beef", is heard when he is in his Commander Beef disguise, often while briefing Saroma and Miyuki on a situation. Both themes were included on Rockman.EXE Sound Navigation 01.
---
END OF JAPANESE ONLY MATERIAL.
---
Trivia
In the Japanese version if the show, Masa's name is pronounced "Mah-sah". In the English dub, due to the inclusion of a "Y" added to his name, it is pronounced "May-sah".
The fish on Masa's apron was colored in pink in the anime, whereas in the games it's white.
In the first episode of the anime Maysa reveals that he had a pet dog.

The dub changes it to a salmon.
Community content is available under
CC-BY-SA
unless otherwise noted.