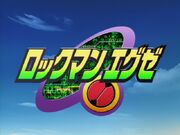 MegaMan NT Warrior, known as Rockman.EXE (ロックマンエグゼ, Rokkuman Eguze) in Japan, is the first season of the Japanese animated series based on the Mega Man Battle Network video game series. It loosely covers the events of Mega Man Battle Network 1, 2, and 3, though it heavily diverges from the source material in terms of how events are played out and when they happen (ie. the N1 Grand Prix, an event from BN3, happening before Gospel becomes a threat, the main antagonist organization of BN2). In Japan, the first season ran for 56 episodes, while the English dub ran for 52, skipping four episodes during its run. It is split into two parts, known as "First Area" and "Second Area" in Japan, with the Second Area starting with episode 27.
The series is the second animated series in the Mega Man franchise after the 1994 series, and is the longest running Mega Man TV show to date, having spawned four more seasons totaling 209 episodes and a film. The first of the next seasons, Axess, was dubbed in English while Stream, Beast, and Beast+, and the movie, Hikari to Yami no Program, set during Stream, only aired in Japan.
It would later be succeeded by MegaMan Star Force, set 200 years in the future, which spawned a second season that only aired in Japan, Ryuusei no Rockman Tribe.
The Wonderswan Color video game Rockman.EXE WS features an rough retelling of the first season of the anime as its plot.
Plot
"It is the year 200X, and it is almost like living in a video game. I'm Lan Hikari, welcome to DenTech City, where the whole city is linked together through a cyber matrix that connects everything. My friends and I have these powerful handhelds called PET that lets us battle in a virtual world with our cyber-warriors. They are called NetNavis; and my NetNavi is MegaMan. There's also an evil force, World Three, which wreaks havoc in the City by infecting the cyber matrix with computer viruses! Along with our friends and their personal net-warriors, MegaMan and I are gonna delete these viruses, and rinse society of all chaos and crime. Jack In! MegaMan! Power Up!"
—Lan Hikari's introduction from the English dub
The "First Area" of season one contains story elements of the original Mega Man Battle Network and Battle Network 3. It details the adventures of Lan Hikari and his new NetNavi MegaMan.EXE as they battle the criminal organization World Three and participate in the N1 Grand Prix. Lan and MegaMan meet many new friends and learn about the Program Advance while preparing to face off against their rival Chaud Blaze and his Navi ProtoMan.EXE. The First Area ends with the revival of PharaohMan.EXE and the deletion and revival of MegaMan.
The "Second Area" starts with episode 27 and contains an loose adaptation of Mega Man Battle Network 2. It follows Lan and MegaMan's adventures around the world as a prize for winning second place in the N1. He and MegaMan then battle the Net Mafia Grave and learn about Bass. MegaMan gains the power of Style Change and new technology sets the background for Axess. Chisao from the third game also debuts, and a Life Virus acts as the final threat of the season in episode 56, mirroring the final battle of the original Battle Network.
Music
Japanese opening themes
Japanese ending themes
"Piece of Peace" by mica (EXE, eps 1-25)
"Begin the TRY" (begin the TRY) by Shōtarō Morikubo (EXE, eps 26-56)
"Hikari Todoku Basho" (光とどく場所 ) by Kumiko Higa and Akiko Kimura (Axess)
"Doobee Doowop Communication" (ドゥビドゥワ コミュニケーション Dubiduwa Komyunikēshon) by Babamania (Stream, eps 1-25)
"Hikari to Doku Basho ~ Yūjo no Shirushi (光とどく場所〜友情のしるし) by Kumiko Higa and Akiko Kimura (Stream, eps 26-51)
"Ashiato" (あしあと) by Clair (Beast)
List of episodes
Staff
Director
Takao Kato
Series Composition
Ken'ichi Araki
Supervisor
Keiji Inafune
Yasuyuki Sagami
Character Design
Mitsuru Ishihara
Prop Design
Kōji Watanabe
Color Design
Natsuyo Ban
Art Director
Hachidai Takayama
Cinematographer
Katsutoshi Hirose
Sound Director
Aketagawa Jin
Music
Katsumi Horii
Animation Production
Xebec
Production
TV Tokyo
NAS
Shogakukan Productions
Broadcasters
Japan: TV Tokyo
USA: Cartoon Network, Kids' WB and Toonami Jetstream
Canada: TELETOON
United Kingdom: Jetix
Latin America and Brazil: Jetix and Rede Globo (Brazilian broadcast)
Spain: Jetix
Portugal: SIC and Canal Panda
Hungary: A+ and RTL Klub
Poland: Jetix
Australia: Cartoon Network and Network Ten
Alternate English dub
An alternate English dub of the first two seasons, done by Voicework Unlimited, was made for the South-East Asian market during the show's initial Japanese run with a script that strictly followed the the original's, leading to some broken and nonsensical sentences when voiced in English. The show also kept the Japanese names, terms, and the original Japanese soundtrack, and was released in two DVD sets.
Voice cast
Megaman NT Warrior
Character
Japanese Voice
English Voice
Latin Voice
Spanish Voice
Brazilian Voice
Lan Hikari

Kumiko Higa

Alex Doduk (First Voice)

Brad Swaile (Rest)

Enzo Fortuny

Pilar Aguado

Júlia Castro

MegaMan

Akiko Kimura

Andrew Francis

Gabriel Ramos

Diana Torres

Fábio Lucindo

Maylu Sakurai

Kaori Mizuhashi

Brittney Wilson

Circe Luna

Marta Sainz

Fátima Noya

Roll

Masako Jō

Lenore Zann

América Torres

Miriam Valencia

Fernanda Bullara

Dex Ogreon

Yūsuke Numata

Tony Sampson

Irwin Daayán

José María Carrero

Roberto Leite

GutsMan

Yoshimitsu Shimoyama

Scott McNeil

Juan Carlos Tinoco

Eugenio Barona

Affonso Amajones

Yai Ayano

Hinako Kanamaru

Jocelyne Loewen

Denice Cobayassi

Valle Acebrón

Angélica Santos

Glide

Yasuhiko Kawazu

Ted Cole

Ulises Maynardo Zavala

José Nuñez

Alexandre Marconato

Tory Froid

Kumiko Watanabe

Reece Thompson

Carlos Díaz

Rosa Vivas

Thiago Kelpmair

IceMan

Junko Noda

Sam Vincent

Pedro D'Aguillón Jr.

José María Carrero

Wendel Bezerra

Chaud Blaze

Mitsuki Saiga

Bill Switzer

Hector Emmanuel Gómez

Elena Ruiz De Velasco

Wendel Bezerra

ProtoMan

Masaya Matsukaze

David Kaye

Ricardo Mendoza

Juan Navarro Torrelló

Vágner Fagundes

Maysa (Commander Beef)

Jin Horikawa

Richard Newman

Guillermo Coria

Angel Amorós

Carlos Silveira

SharkMan

Takuma Suzuki

Richard Newman

Marcos Patiño

Rais David Vascónes

Roberto Leite

Sal (Black Rose)

Omi Minami

Kelly Sheridan

Mayra Arellano

Rosa Vivas (First Voice)

Elena Ruiz De Velasco (Rest)

Tânia Gaidarji

WoodMan

Toshihide Tsuchiya

Lee Tockar

César Soto (First Voice)

Maynardo Zavala (Rest)

Juan Carlos Lozano

Mauro Castro

Miyu (Mysteriyu)

Kumiko Yokote (Hyo-sei)

Anna Cummer

Liliana Barba

Pepa Agudo

Luciana Baroli

SkullMan

Riichi Nishimoto

Brian Drummond

Eduardo Garza

Enrique J. Lles

Wellington Lima

Mr. Higsby

Yūji Ueda

Lee Tockar

Armando Coria

Luis Vicente Ivars

Roberto Rocha

NumberMan

Yūji Ueda

Samuel Vincent

Eduardo Garza

Elena Ruiz De Velasco

Rodrigo Andreatto

Mr. Wily

Katsumi Chō

Paul Dobson

Gabriel Chávez

Luis Vicente Ivars

Luiz Carlos De Moraes

Mr. Match

Katsuyuki Konishi 

Trevor Devall

Armando Coria

José María Carrero

Tatá Guarnieri

TorchMan

Kenji Katougi

Ross Douglas

Miguel Ángel Ghigliazza

José Núñez

Marcelo Campos

HeatMan

Issei Futamata

Brian Drummond

Raúl de la Fuente

Angel Amorós

Ivo Roberto "Tatu"

Count Zap (Conde Zap in Spain)

Kenta Miyake

Colin Murdock

Rafael Rivera

José Núñez

Roberto Rocha

ElecMan

Chihiro Suzuki

Kirby Morrow

Arturo Mercado 

Arturo Mercado JR

José María Carrero

Alexandre Marconato

Maddy

Junko Noda

Tabitha St. Germain

Mónica Villaseñor

Carmen Podio

Letícia Quinto

WackoMan

Yūji Ueda

Andrew Toth

Luis Alfonso Mendoza

Marta Sainz

Vágner Fagundes

Yahoot

Keiichi Sonobe

Ron Halder

Eduardo Fonseca

Eugenio Barona

Wellington Lima

MagicMan

Katsuyuki Konishi

Paul Dobson

Blas García

Angel Amorós

Gilberto Baroli

StoneMan

Hiroaki Ishikawa

Ward Perry

Héctor Moreno

Juan Carlos Lozano

BlasterMan

Hidenari Ugaki

Nick Harrison

Jorge Ornelas

Enrique J. Lles

Ms. Mari

Noriko Hidaka

Janyse Jaud

Isabel Romo

Elena Ruiz De Velasco

Haruka Hikari

Masako Jō

Nicole Oliver

Diana Pérez (First Voice)

Anabel Pérez (Rest)

Valle Acebrón

Yuichiro Hikari

Kōichi Nagano

Michael Adamthwaite

Óscar Flores

Leopoldo Ballesteros

Tora

Masaya Onosaka

Scott McNeil

Carlos Hernández

Blanca Rada

KingMan

Keikō Sakai

Scott McNeil

José Luis Orozco

-
Arashi Kazefuki

Susumu Chiba

Brian Dobson

-
Eugenio Barona
AirMan

Susumu Chiba

Peter New

-
José Núñez
Dave

Kosuke Okano

Kirby Morrow

-

Rais David Vascónes

QuickMan

Masaru Motegi 

Alistair Abell

-
CutMan

Chiyako Shibahara

Scott McNeil

-
Angel Amorós
ShadowMan

Kentarō Itō

Ron Halder

Mario Castañeda (First Voice)

Gustavo Carrillo (Rest)

-
Princess Pride

Tomoko Kawakami

Jillian Michaels

Gaby Ugarte

Carolina Tak

KnightMan

Jin Horikawa

Russell Roberts

Juan Alfonso Carralero

Leopoldo Ballesteros

Gauss Magnus (Sr Gauss in Spanish)

Hideyuki Umezu

Ron Halder

Gonzalo Curiel

Iñaki Alonso

MagnetMan

Tomoyuki Kono

Michael Dobson

-

Juan Carlos Lozano (First Voice)

José Núñez (Rest)

FreezeMan

Sōichirō Tanaka

Mark Oliver

Luis Alfonso Padilla

Leopoldo Ballesteros

Raoul

Nobuo Tobita

Mark Gibbon

Humberto Solórzano

Salvador Serrano

ThunderMan

Daiki Nakamura

David Kaye

Rolando de Castro

Juan Navarró Torrelló

Ms. Millions (Doña Millonaria in Spain)
Rio Natsuki
-
-
Carmen Podio
SnakeMan
Ryusei Nakao
Brian Dummond
-
Eugenio Barona
Bass
Keiko Nemoto
Matt Hill
-
Carmen Podio
MoltanicMan
Kentarō Itō

Brian Drummond

Carlos Íñigo

Luis Vicente Ivars

Mr. Famous (Señor Famoso in Spain)

Keiji Fujiwara

Scott McNeil

Ernesto Lezama

Luis Vicente Ivars

Ribbita

Akiko Nakagawa

Sharon Alexander

Elsa Covián

Elena Ruiz De Velasco

DrillMan
Satoshi Katōgi
Trevor Devall
Humberto Vélez
-
PlanetMan
-

Dave Ward

-

Alfredo Martínez

Kid Grave
Noriko Hidaka
Cathy Weseluck
-

José María Carrero

Aki
Sakura Nogawa

Venus Terzo

-
Diana Torres
PharaohMan

Keiji Fujiwara

Michael Kopsa

Gerardo Reyero

Leopoldo Ballesteros
Home media
In Japan, the series was released across 65 DVD volumes containing all five seasons as well as a separate DVD release for the film. The first season was also released on VHS. Rental stores had different DVD art than retail DVDs to differentiate them.
In America, only the first season of MegaMan NT Warrior was released across 13 volumes.
Reception
MegaMan NT Warrior achieved popularity among Japanese viewing audiences. According to a viewership sample conducted in the Kantō region by Video Research, the anime drew in an average of 4.5% and a maximum of 5.9% of households during the last year of its original run.[1]
Gallery
Trivia
Episodes 18 and 30 are absent on the anime's English official site, leaving it with 50 episodes, causing the numbering of the episodes from episode 18 onward to be wrong.
The letters "NT" in the anime's title stand for "Network Transmission".[Citation needed]
The English dub has an "announcer" for events that happen on the internet, such as a NetNavi being deleted or logged out (i.e., the announcer saying "MegaMan logging out" when MegaMan returns to his PET) where as there was none in the original Japanese dub, and features a completely different soundtrack from the original version as well.

The Brazilian dub version of the anime follows the same English dub version of the anime.
See also
External links
References
Community content is available under
CC-BY-SA
unless otherwise noted.