Raise a Floppa - The Loop
Play Sound
MegaMan NT Warrior, known as Rockman.EXE in Japan, is a manga authored by Ryo Takamisaki. In Japan the manga was serialized in Shogakukan's Gekkan CoroCoro Comic between 2001-2006, and later published in 13 tankōbon volumes between 2002-2006. The manga was published in English by VIZ Media between 2004-2008, and retains its right to left format of reading. The English manga, for the most part, uses the new set of names and terms that were established in the English MegaMan NT Warrior anime series.
Release information
The manga was published in 13 volumes between 2002-2006 by Shogakukan in Japan and between 2004-2008 by VIZ Media in North America.
The manga was also published by Kim Đồng in Vietnam as Rockman - Chiến binh thế giới ảo (roughly "Rockman: Virtual World Warrior") around 2006-2007, and by Conrad in Brazil between 2005-2006. The Brazilian version was smaller, each volume having three chapters, and was cancelled after six volumes (equivalent to three volumes of the original).
MegaMan NT Warrior vol. 1
(Rockman.EXE vol. 1)
Publisher
Release date
ISBN
Shogakukan (Japan)
VIZ Media (North America)
2002 (Japan)
April 21, 2004[1] (North America)
978-4091428714 (Japan)
978-1-59116-465-4 (North America)
Summary
Contents
The year is 200X and everyone is now connected to the Cyber Network. Gone are the days of war and famine. Computers have turned the world into a bright and shiny utopia.

But there's trouble in paradise. A sinister organization by the name of World Three has vowed to destroy this technological wonderland.

Enter our young hero, Lan Hikari, an intensely curious and cheerful fifth grader. Synchronized with MegaMan, he becomes a super-charged dynamo. In and out of the Net, Lan and MegaMan do their best to thwart World Three's never-ending quest to take over the world!
Chapters 1-5
Bonus Chapter: Lan and MegaMan First Impressions
MegaMan NT Warrior vol. 2
(Rockman.EXE vol. 2)
Publisher
Release date
ISBN
Shogakukan (Japan)
VIZ Media (North America)
200X (Japan)
June 2, 2004[1] (North America)
978-4091428721 (Japan)
978-1-59116-466-1 (North America)
Summary
Contents
He may be tiny, but MegaMan is a cyberspace superhero powerful enough to save the world.

But even MegaMan can't do it all by himself. With the help of his best friend and NetOperator, Lan Hikari, he powers up with an arsenal of Blasters and CyberSwords to keep DenTech City safe from a hostile high-tech takeover.

Armed with a deadly weapon called The LifeVirus, an evil genius by the name of Mr. Wily is determined to take over the Net. Now it's up to MegaMan and his pal ProtoMan to squash the fiendish mastermind. If they fail, DenTech City and the rest of the world will be permanently deleted!
Chapters 6-11
MegaMan NT Warrior vol. 3
(Rockman.EXE vol. 3)
Publisher
Release date
ISBN
Shogakukan (Japan)
VIZ Media (North America)
200X (Japan)
September 7, 2004[1] (North America)
978-4091428738 (Japan)
978-1-59116-414-2 (North America)
Summary
Contents
Venturing deeper and deeper into the murky UnderNet, MegaMan and Lan Hikari come face to face with PharaohMan - a 20,000-year-old relic from a long-forgotten civilization.

At his command, PharaohMan possesses the four holy warriors...each one as powerful as MegaMan himself!

Quickly, the cobalt-colored NetNavi figures out the score. If he can defeat each of these warriors, he'll be able to wrestle their collective strength away from PharaohMan.

With his pal GutsMan at his side, MegaMan is ready for a full-tilt fight. If he can defeat the fearsome foursome, he will be the strongest NetNavi in DenTech City!
Chapters 12-17
MegaMan NT Warrior vol. 4
(Rockman.EXE vol. 4)
Publisher
Release date
ISBN
Shogakukan (Japan)
VIZ Media (North America)
200X (Japan)
November 11, 2004[1] (North America)
978-4091428745 (Japan)
978-1-59116-501-9 (North America)
Summary
Contents
Welcome to the year 200X. With a Personal Terminal (PET) and a NetNavi (NetNavigator) at their disposal, citizens of DenTech City are plugged into the Internet in a big way.

But living life in Cyberspace can be tricky. Computer hacking, virulent viruses and high-tech crimes run rampant in the future.

To the rescue comes a hyperactive little kid named Lan Hikari. When he teams up with MegaMan (his specially programmed NetNavi), he's DenTech City's top boy hero.

With each new NetBattle, Lan and MegaMan get stronger and stronger. But when the pair achieves PerfectSynchro, the pint-sized NetNavi flips out. Now the NetPolice must do the unthinkable; they must destroy MegaMan before he destroys the world!
Chapters 18-22
MegaMan NT Warrior vol. 5
(Rockman.EXE vol. 5)
Publisher
Release date
ISBN
Shogakukan (Japan)
VIZ Media (North America)
200X (Japan)
January 4, 2005[1] (North America)
978-4091428752 (Japan)
978-1-59116-561-3 (North America)
Summary
Contents
When trouble comes to DenTech City, the authorities turn to a spazzed-out fifth-grader for help. That's because they know Lan Hikari is hooked up to MegaMan, the most powerful NetNavi in the Cyber Network. Synchronized together, Lan and MegaMan have become DenTech City's mightiest heroes.

But that was before the arrival of Bass, an unrepentant delinquent with the uncanny ability to mimic the power of any opponent. That's bad news for DenTech City. How will MegaMan be able to defend his hometown against a foe as powerful as himself?

Chapters 23-27
MegaMan NT Warrior vol. 6
(Rockman.EXE vol. 6)
Publisher
Release date
ISBN
Shogakukan (Japan)
VIZ Media (North America)
200X (Japan)
March 8, 2005[1] (North America)
978-4091428769 (Japan)
978-1-59116-755-6 (North America)
Summary
Contents
But now a strange and dark aura has surrounded all of DenTech City. The Dark Forces have arrived and they're making a bid to destroy the brick-and-mortar megalopolis. Just when things look their worst, MegaMan suddenly and unexplainably appears. What the heck is going on?! Everyone knows the Net Warrior can't exist in the real world. Has MegaMan's network transmission gone completely phooey?
Chapters 28-32
Special Edition: Bass ‐ The Ultimate Proof
MegaMan NT Warrior vol. 7
(Rockman.EXE vol. 7)
Publisher
Release date
ISBN
Shogakukan (Japan)
VIZ Media (North America)
200X (Japan)
May 31, 2005[1] (North America)
978-4091428776 (Japan)
978-1-4215-0003-4 (North America)
Summary
Contents
MegaMan's fiercest enemy Bass has returned and he's more powerful than ever. Vested by the Dark Power, Bass has fused with CyberBeast Grave to become DenTech City's worst nightmare.

To save the day, MegaMan and ProtoMan must come together using the SoulUnion program. Apart, the two friends are no match for the new Bass. But together, there's a chance they can smash their archenemy to smithereens.

Chapters 33-37
The Untold Story Behind MegaMan
MegaMan NT Warrior vol. 8
(Rockman.EXE vol. 8)
Publisher
Release date
ISBN
Shogakukan (Japan)
VIZ Media (North America)
200X (Japan)
September 12, 2005[1] (North America)
978-4091428783 (Japan)
978-1-59116-981-9 (North America)
Summary
Contents
Enter: SearchMan! When his entire battalion of warriors is wiped out by a MegaMan impostor, he comes to DenTech City looking for the real MegaMan. The surviving Net warrior is big and bad, and he won't rest until he's exacted his revenge.

Unable to defend himself--or convince SearchMan of his innocence--MegaMan needs help, and he needs it fast. To his rescue come a couple of unlikely heroes--two brothers living in the junkyard, SpoutMan and BubbleMan!

Chapters 38-43
MegaMan NT Warrior vol. 9
(Rockman.EXE vol. 9)
Publisher
Release date
ISBN
Shogakukan (Japan)
VIZ Media (North America)
March 2005 (Japan)
December 13, 2005[1] (North America)
978-4091428790 (Japan)
978-1-4215-0132-1 (North America)
Summary
Contents
Having formed an uneasy alliance with their past rival Bass, both Lan and MegaMan now find themselves in a sticky situation. In the past, they were a dynamic duo fighting to keep their hometown safe. Now, they're on the lam--the object of an intense manhunt! Even with the help of their pal BubbleMan, the former superhero team can't escape the long arm of the law. Together they've become DenTech City's public enemy No. 1!!
Chapters 44-49
MegaMan NT Warrior vol. 10
(Rockman.EXE vol. 10)
Publisher
Release date
ISBN
Shogakukan (Japan)
VIZ Media (North America)
200X (Japan)
September 5, 2006[1] (North America)
978-4091428806 (Japan)
978-1-4215-0749-1 (North America)
Summary
Contents
MegaMan is on the run! Thanks to the nasty work of a mega-imposter, DenTech City's greatest virtual hero is Public Enemy No. 1. If he can reach Netopian Special Intelligence Headquarters, he just might be able to make a stand and clear his name...or he could find himself in even more trouble! Through it all, MegaMan has warned Lan to stay in school and out of danger. But how can Lan stand by when his best friend is in trouble?
Chapters 50-55
MegaMan NT Warrior vol. 11
(Rockman.EXE vol. 11)
Publisher
Release date
ISBN
Shogakukan (Japan)
VIZ Media (North America)
2006 (Japan)
March 6, 2007[1] (North America)
978-4091400758 (Japan)
978-1-4215-1141-2 (North America)
Summary
Contents
Not long ago, MegaMan was the most infamous criminal in the Net, framed for cybercrimes he didn't commit. Now he and Lan are the Net's only hope! The treacherous Dr. Regal has unleashed the ultimate manifestation of Dark Power, an entity known as Nebula Grey. With the Netopian army down, MegaMan and a handful of allies have to stop Nebula Grey...or be deleted forever!
Chapters 56-59
Special Edition: Nebula Gray Epilogue
The Legendary Berserker
MegaMan NT Warrior vol. 12
(Rockman.EXE vol. 12)
Publisher
Release date
ISBN
Shogakukan (Japan)
VIZ Media (North America)
2006 (Japan)
July 3, 2007[1] (North America)
978-4091401700 (Japan)
978-1-4215-1325-6 (North America)
Summary
Contents
A new force has been unleashed from the darkest, wildest realms of the Net--a menace more dangerous than anything DenTech City has ever faced. What is it? MegaMan himself! Transformed by the mysterious "Beast" program, MegaMan has developed the unwelcome power to turn into a rampaging monster. While Lan's scientist dad searches for a solution, MegaMan and Lan try to deal with MegaMan's beastly new condition...while fighting the world's most powerful NetNavis!
Chapters 60-65
MegaMan NT Warrior Extra: Nightmare of BattleChip Stadium
MegaMan NT Warrior vol. 13
(Rockman.EXE vol. 13)
Publisher
Release date
ISBN
Shogakukan (Japan)
VIZ Media (North America)
2006 (Japan)
February 5, 2008[1] (North America)
978-4091402462 (Japan)
978-1-4215-1785-8 (North America)
Summary
Contents
Final Volume!

When MegaMan unlocked the ancient "Beast" program, he gained the dangerous ability to "Beast Out"...and unleashed a monster as old as the Net itself! Now, to win the power to stop CyberBeast Gregar, MegaMan has to prove his worth as the world's top NetNavi. Worse, his arch-rival Bass has gained the power to Beast Out, too! When Gregar breaks out of the Net and into the real world, can MegaMan and Lan stop the rampage?
Chapters 65-69
MegaMan NT Warrior Super Legend: Final Battle!! MegaMan vs. ProtoMan
Special Feature! MegaMan Playback
New Edition
From 2016 to 2017, the manga was reprinted in Japan into eight volumes published by Fukkan.com to commemorate the Mega Man Battle Network series' 15th anniversary, collecting chapters exclusively published in CoroCoro that were not included in the original volumes, as well as new content. The manga was restocked in the 20th anniversary of the series on March 2021, and to promote it, Fukkan.com released the first chapter with audio.[2] On October 2021 this version became available on Amazon Kindle.[3]
New Edition Rockman.EXE vol. 1
Publisher
fukkan.com
Release date
July 23, 2016
Region
Japan
ISBN
[[1]]
Contents
Chapters 1-8
Special Episode: Netto & Rock: Their Encounter
New Edition Rockman.EXE vol. 2
Publisher
fukkan.com
Release date
August 25, 2016
Region
Japan
ISBN
[[2]]
Contents
Chapters 1-9
Special Afterword: Takamisaki's Rockman.EXE: On Reprints
New Edition Rockman.EXE vol. 3
Publisher
fukkan.com
Release date
September 20, 2016
Region
Japan
ISBN
[[3]]
Contents
Chapters 1-8
Special Extra Comic: Saito and Netto
New Edition Rockman.EXE vol. 4
Publisher
fukkan.com
Release date
October 21, 2016
Region
Japan
ISBN
[[4]]
Contents
Chapters 1-8
Special One-Shot: Forte - Proof of Strength
Special Short: NetNavis- What Do You Call a Handsome Trio?
New Edition Rockman.EXE vol. 5
Publisher
fukkan.com
Release date
November 25, 2016
Region
Japan
ISBN
[[5]]
Contents
Chapters 1-8
Forte Side Story: Forte & Serenade
New Edition Rockman.EXE vol. 6
Publisher
fukkan.com
Release date
December 23, 2016
Region
Japan
ISBN
[[6]]
Contents
Chapters 1-9
Special Chapter: Rock & Forte: Their Journey, Part 1
New Edition Rockman.EXE vol. 7
Publisher
fukkan.com
Release date
January 23, 2017
Region
Japan
ISBN
[[7]]
Contents
Chapters 1-9
Side Story 1: VS Nebula Gray Epilogue
Side Story 2: The Legendary Berserker
Special Chapter: Rock & Forte: Their Journey, Part 2
New Edition Rockman.EXE vol. 8
Publisher
fukkan.com
Release date
February 25, 2017
Region
Japan
ISBN
[[8]]
Contents
Chapters 1-9

Side Story: Battle Chip Stadium Nightmare
Mega Side Story: The Final Battle! Rock VS Blues
Special Chapter: Rock & Forte: Their Journey, Part 3
Summary
Lan Hikari is a ten-year-old boy who lives in the year 200X. Everyone has their own personal humanoid programs called "NetNavis". NetNavis are used for several purposes, like run programs and hunt viruses. Lan and his NetNavi, MegaMan.EXE, are some of the best net-battlers in their neighborhood. Now they must use their skills to defeat evil net mafias.
The manga tells a different version of the stories told in the anime and video games, but still retain some major plot points and devices used in them.
Volume 1
Chapter 1: Battle in the New Century!! MegaMan (新世紀バトル!!ロックマン) - Lan's school is set on fire by TorchMan.
Chapter 2: Target MegaMan!! (ねらわれたロック!!) - TorchMan's operator, Mr. Match, wants to meet MegaMan's operator.
Chapter 3: Stop the Runaway Train!! (暴走列車を止めろ!!) - Ms. Mari takes the class for a field trip, but viruses make the train they are on go out of control.
Chapter 4: The FighterSword of Fury!! (いかりのファイターソード!!) - Mr. Higsby takes several kids to the school's conference room to brainwash them for the criminal organization World Three. During the battle against NumberMan.EXE, MegaMan and Lan reach Full Synchro and Lan passes out after the battle.
Chapter 5: FullSynchro Unleashed!! (フルシンクロの力!!) - Lan awakens in a cell. Inspector Oda explains him about FullSynchro and tests him. After the test, Oda gives Lan an Official NetBattler License.
Bonus Chapter: Lan and MegaMan First Impressions (熱斗&ロック、2人の出会い) - A story of the time Lan gained MegaMan.
Volume 2
Volume 3
Chapter 1: The Creeping Black Shadow!! (しのびよる黒い影) - MegaMan is kidnapped by SkullMan.EXE near the Undernet to protect him, saying he has no chance to survive in such place, specially the black shadow that lurks there. SkullMan says that if MegaMan can defeat him, he will be free. Lan finds MegaMan and saves him, becoming friends with SkullMan and Miyu.
Chapter 2: To the New World with FullSynchro!! (フル・シンクロで新世界へ!!) - Count Zap disowned ElecMan.EXE because of his loyalty to World Three, and he teams up with BlasterMan to defeat MegaMan and ProtoMan in the Undernet. However, the two are not a match for them. After the match, a powerful NetNavi appears, Bass.EXE.
Chapter 3: The Vow to the "Strongest"!! ("最強"への誓い) - MegaMan and ProtoMan have a fierce fight against Bass and are almost deleted, but they manage to escape. ShadowMan saves MegaMan and warns him that, being the first NetNavi to survive an attack from Bass, several NetNavis will go after him to obtain his status.
Chapter 4: To the Farthest Reaches of the CyberNet!! (進め、電脳の彼方へ!) - MegaMan is trying to decipher the poorly drawn map ShadowMan gave to him. Suddenly a rowdy Mettaur appears to ask for help, and he is taken back to his home by GateMan, MegaMan going together by accident. MegaMan helps the Mettaurs and they show him the location of the map.
Chapter 5: Chase the Mystery Upgrade Parts!! (謎の強化パーツを追え!!) - The location the Mettaurs showed ended in the Dark Sanctuary, where MegaMan can find upgrades to increase his strength. Dex and GutsMan manage to FullSynchro and help MegaMan find the temple, fighting against several viruses and traps.
Chapter 6: The Ultimate Four Warriors Materialize!! (最強の四戦士、現る!!) - MegaMan meets PharaohMan, the guardian of the temple. To obtain the upgrades, MegaMan must fight against four copies of himself. The copies have the same power and speed of the original, and each has a different Style Change to increase their power: GutsStyle MegaMan, ShieldStyle MegaMan, TeamStyle MegaMan and CustomStyle MegaMan.
Volume 4
Chapter 1: MegaMan vs. Four MegaMen?! (自分VS4人の自分!?) - MegaMan has a hard time against four powered up versions of himself, but during the battle, he reaches a perfect FullSynchro and obtains the ultimate StyleChange, HubStyle. With one attack, he destroyed the four warriors, PharaohMan and the temple. MegaMan and Lan have some remorse for what they did, but PharaohMan says that he and the four warriors have their deepest gratitude to him, as they will finally be able to rest after a long time.
Chapter 2: Uncontrollable Super Evolution!! (制御不能の超進化!!) - Lan and Chaud NetBattle in an abandoned warehouse to see how much they improved. During the battle, Arashi and AirMan.EXE try to kill them and MegaMan uses HubStyle.
Chapter 3: Power out of Control!! (暴走する力) - MegaMan deletes AirMan with a single attack and attacks ProtoMan, but he is saved by Sean Obihiro (he uses the alias "Kei Yūki" until Volume 6) using a Barrier Battle Chip. Oda arrests Arashi and Shun explains that Lan will die if he don't return to normal, but ProtoMan lost MegaMan and he is now running wild in the net, destroying everything in his way. ProtoMan and Shun manage to stop him. The leader of Grave watched the event, and wants to obtain MegaMan's power.
Chapter 4: The Luxury Cruise Ship Trap!! (

豪華客船のわな

) - As Lan's PET was damaged in the previous chapter, he gained a new one, but it has a safety lock to avoid him from jacking in. The millionaire Magnus Gauss invited Lan's class for a cruise in the S.S. Queen Ocean. However, the ship's temperature began to drop and Lan can't verify what's wrong as he can't jack-in, and they are the only ones in the ship (excluding the members of Grave: Gauss, Pride, Dave and their leader). Roll and GutsMan are frozen and ProtoMan appears to see what's wrong, discovering it is a trap from Grave. CutMan.EXE, KnightMan.EXE, FreezeMan.EXE, QuickMan.EXE and MagnetMan.EXE appear to fight against him, and he is outnumbered. Kei Yūki removes the safety lock from Lan's PET and MegaMan helps ProtoMan defeat the five NetNavis.
Chapter 5: The Ultimate Trump!! (最強の切り札) - The fragments of the five Grave NetNavis merged into the giant beast Grave. MegaMan and ProtoMan aren't able to fight against it even with FullSynchro and Program Advances. Kei Yūki leaves Lan and says to Oda the situation is under control, despite what is happening. MegaMan uses HubStyle and goes out of control. The ship is damaged in the battle, and debris fall on the members of Grave, knocking them out except for the leader. Chaud found their leader and says it is over, but the leader reveals to be Kei Yūki and says he still has a trump.
Volume 5
Chapter 1: Battle Fury!! Legend vs. Strength (激闘!! 伝説VS最強) - MegaMan manages to control the HubStyle and finds Roll and GutsMan. Bass notices how strong MegaMan became and appears to fight against him. Kei Yūki says he formed a partnership with Bass to obtain the HubStyle, but during the battle, Bass deleted Grave so it won't stay in the way and Kei is knocked out by him. Roll and GutsMan jack out, and without Grave, MegaMan and Bass can fight without distractions.
Chapter 2: The Scar that Won't Fade (消えない傷あと) - MegaMan and Bass have a fierce battle. Ribitta broadcasts the battle and Lan's father recognize Bass, explaining to the other scientists with him that Bass can copy the abilities of his enemies. MegaMan believes he has advantage in the battle, but Bass obtains the HubStyle.
Chapter 3: Gamble it on this One!! (この1本にかけろ!!) - MegaMan lost the HubStyle, the synchronization broke and Lan is unconscious. MegaMan is badly injured by Bass, and Bass tells him part of his story, not trusting humans and having great hatred. MegaMan says he is wrong and he believes on Lan. A helicopter appears to rescue the passengers. Chaud leaves Kei with Lan's friends saying he is under arrest and that there are three members of Grave unconscious in the bridge, going after Lan afterward. He found Lan and tries to take him out, leaving the PET behind, but he awakes and helps MegaMan. They use HubStyle again, but MegaMan is too injured to fight, so he decides to focus energy in one last attack, when Bass has his guard down to use Earthbreaker. Bass is deleted by him and he passes out. Later, Lan awakens in a life raft and Chaud shows he took the PET too.
Chapter 4: The Shock of Being Called Powerless - MegaMan is having fun in NetCity with Roll and ProtoMan, when suddenly several fans appear and go after him, the NetNavi that defeated Bass. Mr. Famous enters the cyberworld and takes them out of the sight of the fans to test them, calling MegaMan and ProtoMan lightweights for failing. MegaMan doesn't accept it and goes after him. Famous says that if he defeat Punk.EXE he will give him a better score. Punk defeated him easily by using strategy, and Famous says MegaMan has no chance to survive the approaching crisis.
Chapter 5: The Crisis Right Now - Mr. Famous gather his students (three of them being Sal, Raoul and Tamako) to talk about an upcoming crisis, but notices one of them is late to the reunion. Lan and Maylu meet Tora, a NetBattler from Swapopolis, and says he is far away from his home for top secret reasons. Suddenly, a machine is set on fire and MegaMan verifies what is wrong, and finds FireMan inside. Mr. Match uses dark energy on FireMan to transform him into FlameMan. FlameMan is too powerful and MegaMan uses HubStyle, but FlameMan survived his attack and MegaMan returned to normal. Tora sends KingMan.EXE to fight against FlameMan and says MegaMan to leave the battle for him. MegaMan wants to help, but Mr. Famous appears and explains Lan the HubStyle vanishes when used against dark energy, so he would not stand a chance.
Volume 6
Chapter 1: Crisis on the Move! - KingMan defeats FlameMan with ease, and Lan goes home sad because he and MegaMan had a lot of trouble to obtain and control HubStyle, and it was useless, and they sleep. Meanwhile, ProtoMan and Chaud are training in the Undernet, and a strange NetNavi appear to talk with them about an incoming crisis. In the morning, Lan and MegaMan awakens and they are surprised to see MegaMan is outside the PET. NetNavis have materialized in the real world. Tora and KingMan are in Lan's house and says Mr. Famous sent them to check the phenomenon, and it is likely not only NetNavis will appear, but also viruses and dark NetNavis. Rei Saiko attacks the city with FlashMan.EXE and hypnotized KingMan. FlashMan prepares to kill Tora and KingMan while they are defenseless, but MegaMan and Lan use FullSynchro and deleted FlashMan by focusing the energy of HubStyle only in his right arm, similarly to how he did against Bass. Punk captures Rei and Famous decides to give Lan and MegaMan a better score.
Chapter 2: Return of a Sworn Friend! - Mr. Famous invites Lan and MegaMan to the Officials' center, and they meet with Kei Yuki. He says his real name is Sean Obihiro and it is revealed he was under the mental control of an unknown force. It is explained that the dark energy is the cause of the current events, and they must find its source and seal it. Suddenly, they are attacked by DesertMan.EXE and he fights against Punk and MegaMan. They try to ask for help but everyone else in the building was already defeated by him. Famous and Punk use themselves as bait to leave DesertMan defenseless so MegaMan can defeat him. Chaud and ProtoMan appear and destroy DesertMan, showing MegaMan that the lord of the Undernet gave him the sword Muramasa to fight against darkness, and he has the MuramasaStyle.
Chapter 3: The Destiny to Fight the Darkness! - Mr. Famous and Punk can't fight because of their injuries, and the Officials' center was destroyed. Chaud and ProtoMan want to take care or the darkness without Lan's help, as this is the burden Serenade.EXE gave to them with Muramasa. The source of the dark power was discovered, and they are joined by Raoul and ThunderMan.EXE. Inukai and BeastMan.EXE attacks them in the local using FullSynchro. MegaMan and ThunderMan are no match for his high speed, but ProtoMan deletes him effortlessly. ProtoMan goes inside the local and Serenade creates a barrier to avoid the entrance of the others.
Chapter 4: Arrival of the True Strongest! - MegaMan tries to pass through Serenade's barrier to help ProtoMan, but Serenade says this is ProtoMan's fight, and no one can pass. The barrier is not able to counter dark energy, and a large amount passes through it and invades the city. Tora and KingMan protect the city from the dark viruses. MegaMan and Lan manage to pass through the barrier with HubStyle, but they aren't a match for Serenade and are defeated. Serenade leaves the local, the barrier still active and with MegaMan inside.
Chapter 5: The Strength of Brotherhood! - Serenade talks with Mr. Famous about Lan, MegaMan, Chaud and ProtoMan. ProtoMan found the source of the dark power (Alpha) and fights against DarkMan.EXE, PlantMan.EXE and DrillMan.EXE, but is almost defeated. MegaMan appears and helps him in the battle, and they manage to delete the three NetNavis by joining forces into one attack. For unknown reasons, they are fully recovered after the attack.
Special Edition: Bass - The Ultimate Proof - The story of Bass' creation, a powerful Solo NetNavi that doesn't need an operator and tests the security in his own way, which causes a lot trouble. Dr. Cossack was the only scientists that understood him. The scientists decided it would be better to delete him, but he managed to escape, injured and with a scar in his Navi mark.
Forte × Serenade: The Legendary Battle
This is a side story published only in Japan in a bonus book included in the October 2003 issue of Coro Coro that wasn't included in the compilations. However, this chapter is included in the reprint version. This is the sequel of Bass' side story from volume 6, with Bass trying to survive in the Undernet fighting against viruses and NetNavis and searching for the king of the Undernet. Serenade appeared to him and Bass tries to fight against him. Serenade evades all of his attack and says he has a message for him from Dr. Cossack. In the message, Cossack explains that when the scientists tried to delete him believing he was the cause of Alpha's malfunction, he was took into custody and could not help him, and feared he was deleted. Cossack hopes to see him again if he is still alive. Serenade says Bass has the chance to leave the Undernet and return to Cossack, but Bass refuses and crushes the message. He fights against Serenade and is defeated, being severely injured and falling out of sight.
Volume 7
Chapter 1: The Ultimate's Third Appearance - MegaMan and ProtoMan are ready to destroy the source of the dark power, when suddenly Bass appears from the source. Before dying, DarkMan says the dark power revived him as a dark NetNavi, Bass GS. Bass explodes the local and goes to the city, preparing to destroying DenTech City with Vanishing World, but MegaMan stops him.
Chapter 2: The Power of Believing in Each Other!! - MegaMan has a fierce battle against Bass in the skies of the city, but is defeated, almost dying when he felt from the sky. Serenade saved MegaMan and Bass uses Vanishing World to kill them, and Serenade sacrifices his life to protect MegaMan and ProtoMan.
Chapter 3: The Ties That Bind, Awaken!! - Bass absorbed Serenade's power, increasing his own and gaining new abilities. Even without a chance to win, MegaMan and ProtoMan fight against him. After getting tired, Bass prepares to finish them of, but their souls resonate and they combine into one with Double Soul, a program left behind by Serenade that allowed MegaMan to change into the Proto Soul.
Chapter 4: Transformation! ProtoSoul!! - With the ProtoSoul, MegaMan manages to defeat Bass.
Chapter 5: Freedom From Darkness - Lan and his friends commemorate Bass' defeat, but he is still alive and arise from the debris. Bass asks MegaMan to delete him, but he let him live. They are now rivals, and will fight again in the future. Suddenly a beam tries to hit MegaMan and Bass saves him, being taken by the Darkloids LaserMan.EXE and MegaMan DS, the true dark NetNavis.
The Untold Story Behind MegaMan - A three page comic with an image of MegaMan and ProtoMan arm wrestling and the author wondering why ProtoMan doesn't has a girlfriend. Ryo Takamisaki dedided that he would add a new character called "Rhythm" to be ProtoMan's girlfriend, but WoodMan.EXE, ColorMan.EXE and IceMan.EXE complain "what's with the new character" as none of them had appeared in the story.
Volume 8
Chapter 1: Impact! The True DarkNavi Appears - With the destruction of Alpha and the dark power, the NetNavis return to the cyberworld and a portal for the Darkloids' different dimension is opened, labelled the DarkNet. When MegaMan DS deleted several military NetNavis in Sharo, MegaMan is framed for his actions and Sharo's military orders Raika and SearchMan.EXE to delete him. BubbleMan.EXE appears disguised as ProtoMan and stops the fight, and SearchMan notices MegaMan is not guilty for what happened to his comrades. BubbleMan says he is an intel NetNavi and has information about the Darkloids.
Chapter 2: The Other MegaMan?! - BubbleMan says that he listened the Darkloids talking about their plan to fuse MegaMan DS with Bass, but to reveal more, MegaMan has to give him 100 million Zenny to his house. He doesn't has the money, but goes to his house with his friends, which is located in a dump. He introduces his young brother SpoutMan.EXE and asks if he has the money, but when MegaMan gave him only 200 Zenny, he got angry and threw it away. MegaMan tries to recover his money and his friends complain of his greedy attitude. BubbleMan explains he and SpoutMan where abandoned and their operators and need a large amount of money to survive. MegaMan DS pretends to be MegaMan returning and attacks BubbleMan, knocking out SpoutMan when he tried to protect his brother. He is aggressive with everyone and Roll goes away sad, Glide going after her. GutsMan tries to stop him and is taken by darkness. When the real MegaMan returns, BubbleMan's house is destroyed.
Chapter 3: GutsMan, Swallowed by Darkness!! - GutsMan is out of control, but MegaMan can't attack him. After a while, MegaMan DS tries to delete both of them, and MegaMan tries to protect GutsMan and their souls resonate, becoming the Guts Soul and hitting MegaMan DS. LaserMan and MegaMan DS retreat. BubbleMan decides to reveal what he knows for free.
Chapter 4: MegaMan DS Revealed - MegaMan DS needs hate energy to fuse with Bass, and ShadeMan.EXE has a plan to do it. BubbleMan reveals the location of the portal to the Darkloid's dimension, but only MegaMan is able to go inside, using HubStyle. ShadeMan uses uses ultrasonic waves to break the Synchro between MegaMan and Lan, and kidnaps Lan's consciousness. MegaMan DS tries to make MegaMan hate him as much as possible to increase his powers. As he keeps cool, he calls ShadeMan and shows Lan injured, daring to delete him. MegaMan gets angry and deletes ShadeMan with his bare hands.
Chapter 5: When Hate Becomes Power!! - Filled with hatred, MegaMan attacks MegaMan DS and his power is increased. MegaMan DS almost deleted MegaMan, but SearchMan appeared Sharo's army and saved him. SearchMan is injured and his squad was deleted by MegaMan DS.
Chapter 6: Counterattack of the Ultimate Duo!! - MegaMan uses Search Soul and goes after MegaMan DS to avoid him fusing with Bass. A large portal between the two dimensions is created, and ProtoMan entered the dimension by accident when he saw SearchMan unconscious. MegaMan is not able to defeat MegaMan DS and is almost deleted again, but is saved by ProtoMan. MegaMan DS fused with Bass.
Volume 9
Chapter 1: Eternal Darkness - The Ultimate Power - MegaMan DS absorbed Bass and transformed into the Bass Cross, fighting against MegaMan while ProtoMan fights against LaserMan. BubbleMan is sent to help them with recovery data and restore the communication.
Chapter 2: Resurrection! Resonance of the Souls!! - Bass' soul gets out of MegaMan DS and watches the battle, but MegaMan DS is still powerful without the BassCross. SearchMan and ProtoMan are healed by BubbleMan and ProtoMan is able to defeat LaserMan. MegaMan uses ProtoSoul to fight against MegaMan DS.
Chapter 3: The End!! The Proof MegaMan is MegaMan - LaserMan is still alive and suggests MegaMan DS they should retreat, but instead MegaMan DS absorbs him and uses his power against MegaMan. After a tough battle, MegaMan manages to defeat MegaMan DS.
Chapter 4: Friend or Foe?! Enter the Netopia Military! - After MegaMan DS' defeat, several Darkloids appear to attack MegaMan and the others, but Colonel.EXE and TomahawkMan.EXE appear and seal the dark space with Giga Freeze, making the area return to normal.
Chapter 5: A Dangerous Man?! It's MegaMan!! - Colonel orders TomahawkMan to fight against MegaMan to test him. After the battle, Colonel concludes MegaMan is too powerful to be let free and the Netopia army tries to arrest MegaMan, but he manages to escape.
Chapter 6: MegaMan at Large?! - The Netopia army announces there is a reward of 100 million Zenny to who capture MegaMan. MegaMan is hidden in BubbleMan's house, and when BubbleMan saw the wanted poster, he gave MegaMan's location, but told him of an escape route to Sharo. However, BubbleMan accidently gave the wrong direction and MegaMan goes to Netopia, falling right on TomahawkMan's head.
Volume 10
Chapter 1: MegaMan Rescue Mission!! - Lan looks for MegaMan in Netopia, and he won a free ride in a helicopter piloted by Charlie. During the ride, they are attacked by the Netopia army and the TV says Charlie is a terrorist that captured Lan, using him as a bait for MegaMan. Dr. Regal says Colonel and Baryl were removed from the case.
Chapter 2: A New Combo? - One of the Netopian Navis that where after MegaMan reveals to be a Darkloid, CloudMan.EXE. Dingo and TomahawkMan appear to arrest MegaMan and is surprised to see a Darkloid. Colonel contacts TomahawkMan and says there is a traitor in the Netopia army using dark powers, and orders him to protect MegaMan from the Darkloid. The two are able to defeat CloudMan with Tomahawk Soul.
Chapter 3: MegaMan Captured! - MegaMan and Lan are taken to Netopia's headquarters to protect them from the traitor. Bass goes after MegaMan in the headquarters and says he should follow him to settle their score. MegaMan says he has something to do first, and Colonel fights against Bass to avenge Serenade's deletion. MegaMan notes something is wrong with Bass, and he reveals he is actually a Darkloid from Nebula, CosmoMan.EXE, and he retreats.
Chapter 4: Approaching Darkness - Baryl suspects Dr. Regal is the traitor, and he orders MegaMan and TomahawkMan investigate Regal's laboratory to find proof of his involvement with the Darkloids. Regal discovers them and cut the communication with their NetOps, and unleashes the small Nebula Grey on them. TomahawkMan is affected by the darkness of Nebula Gray and attacks MegaMan. When MegaMan uses Double Soul with TomahawkMan, his dark power passes to MegaMan and he acts like the Chaos Unison. Nebula Gray leaves and several Darkloids appear to welcome the dark MegaMan, but with a dark grin, MegaMan attacks them.
Chapter 5: Activation! TomahawkSoul!! - MegaMan runs wild in Regal's laboratory, but Lan manages to make him return to normal, surprising Colonel and Regal.
Chapter 6: The Final Showdown Against Darkness - Regal's location is unknown and the Netopian army begins to take down all Darkloids infiltrated with them. MegaMan wants to help, but Colonel orders him to stay while Medi.EXE takes care of him. One base discovered to be full of Darkloids is attacked by the army's greatest fleet, and the base is destroyed with all Darkloids. Only one Darkloid is left, CosmoMan, and he opens a dark area from which Nebula Gray emerges, destroying the entire fleet and absorbing them. Upon seeing this, MegaMan leaves the hospital and goes to help Colonel and the others. Nebula Gray is now more powerful than before, having the same appearance he has in the games.
Volume 11
Chapter 1: Battle of the Biggest, Baddest Evils - Bass appears to fight against Nebula Gray. In his way to the base, MegaMan sees GyroMan and asks him for a ride, and he also takes ProtoMan and TomahawkMan with him, GyroMan complaining of the weight. Bass' attacks are useless against Nebula Gray, as he is able to absorb darkness, and Bass' attacks use dark power. Bass, Colonel, MegaMan, ProtoMan, TomahawkMan and GyroMan combine forces to attack Nebula Gray, but are overwhelmed by his growing strength. ProtoMan, TomahawkMan and GyroMan are absorbed by Nebula Gray.
Chapter 2: Ultimate Union - A Dangerous Bet - MegaMan merges with Bass with the BassCross.
Chapter 3: Absolute Power - Nebula Gray is no match for BassCross MegaMan, but CosmoMan retrieves ProtoMan, GyroMan and TomahawkMan from Nebula Gray's body and uses them as a shield. Also, MegaMan is getting damage from his own attacks due to their high power. Colonel risks his life to open a path for MegaMan defeat CosmoMan and Nebula Gray.
Chapter 4: The Miracle Beyond Hope - The BassCross is undone, but CosmoMan and Nebula Gray merge and they try to absorb Bass. All Navis are heavily damaged and there is nothing MegaMan can do to avoid Bass being absorbed. As a last attempt, his soul leaves his body to search for power around the cyberspace. He finds a strange beast (Gregar) and uses Beast Out to destroy both CosmoMan and nebula Gray. MegaMan collapses after the battle. Regal says it's not over yet, but Bass found his hideout, a submarine, and explodes it with Regal inside.
Special Edition: Nebula Gray Epilogue - MegaMan is not feeling well after the battle and Dr. Hikari examines him. MegaMan's program size has highly increased because of the beast and can't be kept in the PET, and he may Beast Out at any moment and become out of control. Lan receives the Link PET EX to help him contain MegaMan.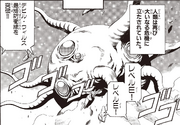 The Legendary Berserker - A side-story four years after the defeat of Nebula Gray. Colonel, MegaMan, TomawahkMan, NumberMan, ShadowMan, ProtoMan and SearchMan fight against a powerful virus dubbed the "Devil Virus". They are no match for it and are knocked out, MegaMan being the first to go down to protect NumberMan. Bass appeared and used the BassCross with MegaMan to delete the virus.
Volume 12
Chapter 1: Leading the Strong - MegaMan didn't Beast Out again for a long time, but he has several nightmares with it. Iris.EXE calls MegaMan when he was walking with his friends and an earthquake makes Roll and GutsMan fall in an unknown jungle-like location. MegaMan saves GutsMan from a giant dragonfly-like monster, and it runs away when the Cybeast (called by the Japanese name CyberBeast in the manga) Gregar appears.
Chapter 2: Survival Navi Battle! - Iris appears and says she is the keeper of the Cybeast, and called several Navis to fight each other, and they must take the opponent's emblems. The Navi marks are added to the mark of the one who defeated the owner. The winner will be granted a legendary power to defeat Gregar. ProtoMan, TomahawkMan and SearchMan and several other Navis fight each other. GutsMan awakens and see the battle, but Iris says he is there by mistake and sends him back. MegaMan doesn't want to fight and plans to jack out, but Maylu remembers him Roll is still there. He finds Roll trapped by a giant cyber plant about to eat her and tries to save her, but is also taken by the plant. Colonel appears and destroy the plant, and attacks MegaMan to take his mark. Colonel says it's MegaMan's fault the Cybeast is awakening. Roll tries to protect MegaMan, but Colonel continues his attack and MegaMan Beasts Out.
Chapter 3: The Forbidden Power Returns!! - Yuika and CircusMan.EXE ask Colonel to let them handle MegaMan, and he is captured in CircusMan's cage. MegaMan manages to control the Beast Out form with Lan's help and defeats CircusMan. He passes out after the battle and Roll jacks out with him.
Chapter 4: Turmoil in the Background - MegaMan slept for three days and Dr. Hikari explains that the power of Beast Out drains energy quickly, exhausting MegaMan. He also explains Gregar originated from bugs and was sealed in the Underground. MegaMan returns to the Underground, and as soon as he enters he is attacked by ProtoMan, SearchMan and TomahawkMan. MegaMan uses Beast Out and defeats them. When he asked for their Navi marks, he is attacked by feather and tries to protect them, but the three move in front of the feathers to protect him.
Chapter 5: Attack! CyberBeast Falzar!! - The feathers came from Falzar, a CyberBeast that was create to fight against Gregar and was sealed with him. Falzar is after MegaMan because he has Gregar's power, and see him as a target to be deleted. They give their emblems to MegaMan and he obtains their power. He Beast Out to fight against Falzar. MegaMan is not able to fight against Falzar, but Bass appears and uses his ability to absorb Falzar and its power, and he Beast Out.
MegaMan NT Warrior Extra: Nightmare of BattleChip Stadium - In a mysterious stadium with BattleChips scattered around, ProtoMan fights against Bass, and Colonel against MegaMan. Suddenly, the public disappears, a large humanoid being appears and the four are infected by bugs and defeated. It's revealed they where only copies testing a BattleChip Stadium in SciLab, and MegaMan complains his copy was defeated. An error occurred on the giant being, Bugriser, and it started to attack everything. MegaMan has to collect three chips in the program to use a powerful Program Advance only available on it, Boscono Panic Express. The real ProtoMan and Colonel appear and help gather the chips for the PA, creating a ChargeMan. The four combine their attacks to defeat Bugriser. The story ends with MegaMan entering the BattleChip Stadium after it was repaired.
Volume 13
Chapter 1: The Symbol of Ultimate Power - Bass prepares to fight against MegaMan with Beast Out, but Bass' get ability wasn't able to absorb Falzar completely, and part of its power leaves Bass to go after Gregar. Bass goes after it and Gregar to absorb them. MegaMan goes too, but he remembers he didn't obtained the legendary program yet and would not be able to stand against them. Colonel appears with ElementMan and JudgeMan and says they are the only ones left, and he has to fight against them. He is able to defeat them.
Chapter 2: King of the Cyber Beasts, Born!! - Falzar and Gregar encountered each other and they combined into one CyberBeast. Iris reveals she is the legendary program and Colonel's sister. She gives her power for MegaMan to stop the CyberBeast. The CyberBeast is so powerful, it made the whole world shake with a roar and suddenly it appeared in the real world. The real world is being absorbed by the cyberspace. Bass also appeared in the real world and tries to fight against the CyberBeast, but he is no match for it.
Chapter 3: The Ultimate Super Beast Out!! - MegaMan's power have highly increased, and he fights against the CyberBeast with his Super Beast Out, which resembles the Beast Over from the games. However, the CyberBeast is too powerful and it completely absorbed DenTech City. MegaMan and Bass join forces to defeat it.
Chapter 4: Entrusted Hope - 60% of Earth was already absorbed by the Cybeast, and continues absorbing everything. MegaMan and Bass reach the core of the CyberBeast. It has a high protection, but Bass gives his powers to MegaMan and he destroys the core, destroying the CyberBeast and making everything return to normal, but MegaMan died in the explosion. One year later, MegaMan manages to return.
MegaMan NT Warrior Super Legend: Final Battle!! MegaMan vs. ProtoMan - A few months after MegaMan's return, ProtoMan challenges him for a battle and they fight with their full power. The decisive battle to see who is the strongest.
Special Feature! MegaMan Playback - A brief summary of MegaMan's rivals and fiercest battles.
---
PLEASE NOTE:

THE FOLLOWING INFORMATION IS ABOUT MATERIAL THAT WAS NOT LOCALIZED OR DUBBED OUTSIDE OF JAPAN OR OTHER COUNTRY, AND USES THE ORIGINAL TERMS AND NAMES.
---
Rock & Forte: Their Journey
Rock & Forte: Their Journey (ロックとフォルテ 二人の旅, Rock & Forte: Their Journey) is additional chapters included in the 2016-2017 reprint version, split into three parts from volume 6 to 8. According to Ryo Takamisaki himself, the chapter is his own personal project, not officially written by Capcom though he received permission to publish it. The chapter was first hinted in 2015 in Takamisaki's Twitter before it was officially announced with a teaser artwork in 2016.[5] This chapter serves as a midquel that takes place between after Rockman defeated the Cyber Beast and before his return. After defeating the Cyber Beast, Rockman was blown to the end of the Cyber World. He forms a truce with Forte who was also got blown away there and the two travels together to return to the original Cyber World. After a year traveling together, they finally found the way to return by using a Remote Gate attached to the remain of Glaga's data. Forte helps Rockman to get into the Remote Gate that lead him back home while he stays behind and kills the bug. Forte then continues his journey, but is then approached by Serenade, who reveals he has been watching ever since he started his journey with Rockman and offers to accompany him in Rockman's stead, an offer that Forte refused but Serenade still follows him because he is lonely, much to Forte' dismay.
Blues no Iede
Blues no Iede (ブルースの家出, Blues no Iede "Runaway Blues") is an extra chapter included in the Rockman.EXE Treasure Box released in 2021. Blues ran away from Enzan, saying to Rockman and his friends that Enzan was forcing him to do awful things. Enzan appears and explains that Blues has an error due to a program he installed. Rockman and Netto wonder who is saying the truth, but as Blues starts acting strange, they attempt to stop him. Enzan resorted to transporting his consciousness into the Cyber World and managed to convince Blues to remove the program by himself. Afterwards, Enzan revealed that the one responsible for creating and installed the program was Shun Obihiro, who persuaded Enzan to install the program because it would make Blues strong. Furious that the install has an opposite effect on his NetNavi, Enzan punished Shun.
Forte - Time of Reunion -
Forte - Time of Reunion - is the 106 pages sequel chapter to Rock & Forte: Their Journey included in Rockman Works SSR (Super Special Rare) released in January 2022. Netto, Rockman, Enzan, and Blues were called by Netto's father and Laika, who requested for their help to catch Forte alive because his creator, Cossak, wants to see him before being put into Cold Sleep to preserve his life until the cure of his disease can be found. Rockman and the others accepted the task and began looking for Forte. While looking for Forte, they met Serenade, who discouraged them to try reuniting Forte and Cossak in consideration to both Forte and Cossak's feelings. When Rockman and the others still insisted, Serenade let them go with cryptic advice to handle Forte. Not long after leaving Serenade, Forte attacks them and able to overpower Rockman even in his Site Style form while using Soul Unison with Blues. Netto and Rockman decided to gamble with Serenade's advice, admitting defeat and gave up. This enraged Forte who began to beat him up until Forte finally decided to listen to their story and agreed to meet Cossak so he could say farewell to his past. When reunited with his creator, however, Forte realized Cossak's undying love for him and vice versa, rekindling their bond. Forte then continued his journey while expecting for Rockman to get stronger for their next fight. For their success, Laika gifted Rockman and the others each a badge of honour, but everyone except Rockman were not pleased with the gift, much to Laika's dismay.----
END OF UNLOCALIZED MATERIAL.
---
Gallery
External links
References