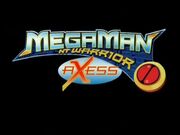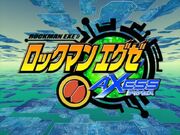 MegaMan NT Warrior Axess, known as Rockman.EXE Axess in Japan, is the continuation of the MegaMan NT Warrior anime series. It borrows elements from Mega Man Battle Network 3 and Mega Man Battle Network 4, but has its own story. Lan Hikari and his friends fight against Nebula and the Darkloids.
It takes place a few months after MegaMan NT Warrior. SciLab is trying to find a way to create Cross Fusion but are unsuccessful. Then a dimensional area generator appears and traps SciLab in a Dimensional Area. ShadeMan.EXE and BeastMan.EXE steal the Synchro Chips, but the two remain and Lan Cross Fuses with MegaMan.EXE to fight off BeastMan.EXE. He becomes a NetSavior and fights to get rid of the Dark Chips and Nebula.
Lan and MegaMan are initially the only ones who can Cross Fuse, but later Chaud Blaze and ProtoMan.EXE gain the ability to Cross Fuse too.
Nebula and the Darkloids are the primary villains in this series. The Darkloids work for Nebula like mercenaries for Dark Chips in the game but Dr. Regal intends for the Dark Chips to errode the Darkloids, getting rid of them once they're not useful.
In this series MegaMan can combine his power with another NetNavi by using Double Soul, and after that Lan gets a new chip with the symbol of that NetNavi, allowing his to use the form. These Double Souls are the same ones obtained in MegaMan Battle Network 4.
Music
Opening Theme: "二つの未来 (Futatsu no Mirai; Two Futures)" by Michihiro Kuroda
Ending Theme: "光とどく場所 (Hikari to doku Basho; The Place Where Light Reaches)" by Kumiko Higa & Akiko Kimura
Season Characters
New characters.
Heroes
MetalMan.EXE (HeavyMetalMan)
AquaMan.EXE (SpoutMan)
Commissioner Kifune (Keifer)
Manabe (Manuela)
Misaki Gorou (Misaki)
Prisman (PrismMan)
Ran Igarashi
Villains
List of episodes
DVD release
Rockman.EXE Axess was released in 17 DVDs between 2004-2005.
Normal DVD
Rental-only DVD
Details
Rockman.EXE Axess DVD 01
Episodes
01-02
Release date
Cover characters
Lan, MegaMan, C.F.MegaMan
Rockman.EXE Axess DVD 02
Episodes
03-05
Release date
Cover characters
MegaMan, Roll, Roll Soul
Rockman.EXE Axess DVD 03
Episodes
06-08
Release date
Cover characters
MegaMan, FireMan, Fire Soul
Rockman.EXE Axess DVD 04
Episodes
09-11
Release date
Cover characters
MegaMan, GutsMan, Guts Soul
Rockman.EXE Axess DVD 05
Episodes
12-14
Release date
Cover characters
MegaMan, NumberMan, Number Soul
Rockman.EXE Axess DVD 06
Episodes
15-17
Release date
Cover characters
MegaMan, MetalMan, Metal Soul
Rockman.EXE Axess DVD 07
Episodes
18-20
Release date
Cover characters
MegaMan, SearchMan, Search Soul
Rockman.EXE Axess DVD 08
Episodes
21-23
Release date
Cover characters
MegaMan, ProtoMan, Proto Soul
Rockman.EXE Axess DVD 09
Episodes
24-26
Release date
Cover characters
MegaMan, SpoutMan, Spout Soul
Rockman.EXE Axess DVD 10
Episodes
27-29
Release date
Cover characters
MegaMan, ThunderMan, Thunder Soul
Rockman.EXE Axess DVD 11
Episodes
30-32
Release date
Cover characters
MegaMan, WindMan, Wind Soul
Rockman.EXE Axess DVD 12
Episodes
33-35
Release date
Cover characters
MegaMan, WoodMan, Wood Soul
Rockman.EXE Axess DVD 13
Episodes
36-38
Release date
Cover characters
MegaMan, JunkMan, Junk Soul
Rockman.EXE Axess DVD 14
Episodes
39-41
Release date
Cover characters
Chaud, ProtoMan, C.F.ProtoMan
Rockman.EXE Axess DVD 15
Episodes
42-44
Release date
Cover characters
Ms. Yuri, NeedleMan, C.F.NeedleMan
Rockman.EXE Axess DVD 16
Episodes
45-47
Release date
Cover characters
Dr. Regal, LaserMan, C.F.LaserMan
Rockman.EXE Axess DVD 17
Episodes
48-51
Release date
Cover characters
MegaMan, LaserMan, ShadeMan
Gallery
External links