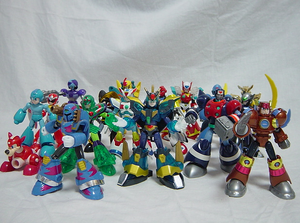 Mega Armor (メガアーマー, Mega Āmā) is a series of Mega Man figures released by Bandai in Japan in which the armor of the figure can be removed and customized in a frame. The figures used a combination of colored plastic, factory-applied paint and decals for coloration, although some details were left uncolored, necessitating post-purchase painting to complete them.
Lineup
Rockman 8
Figures from Mega Man 8 released by Bandai in 1997, in Rockman's 10th anniversary. Rockman, Blues and Forte use assembled bodies with attached limbs, while Duo, Tengu Man and Sword Man mount onto skeletal frames that must be assembled. The Rockman, Blues, Forte and Rush model kits include "Iron Buster" accessories, which are oversized busters with a mechanical ability to figure small metal balls at included cardboard targets.
Rockman X Series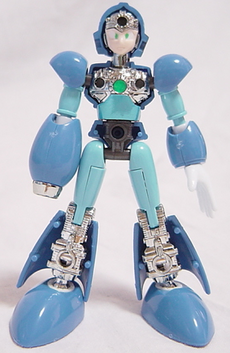 Figures from the Mega Man X series. Most of them are the same base model Mega Man X with different colors, weapons, or armors, except for a few like Zero, Vile MK-II and Bit. Unlike Duo, Tengu Man and Sword Man from the Rockman 8 line, all the body frames come pre-assembled and are secured by screws. Originally, non-X and Zero characters and weapon recolors were released in individual plastic bags, as well as reduced-articulation Mega Frames for displaying unused parts. Later on these armors were packed in boxes containing a base body as well. The EX Armor parts were released via plastic bag originally as well, containing the upgrade parts for both X and Zero. Due to being released at the same time, the Rockman X series model kits are compatible largely compatible with the accessories and parts from the Rockman 8 line, and vice-versa.
A new, transluscent model kit of the Ultimate Armor was created in response to the release of Rockman X4, and was packaged in a special edition with the Sega Saturn version of the game, though it would later see an independent release. Years later, three additional models, the Fourth Armor, Falcon Armor and Gaea Armor, were released in response to the release of Rockman X5. These models did not feature the back-hole used for accesories featured on all prior models, but included distinctly-colored hands instead of the standard white hands. Many of the older model kits were subsequently re-issued with new box art following these releases in both standard and chromed variants, as well as transluscent versions in some cases. Some chromed and transluscent versions do not retain the pre-applied paint featured on the original standard releases however.
X: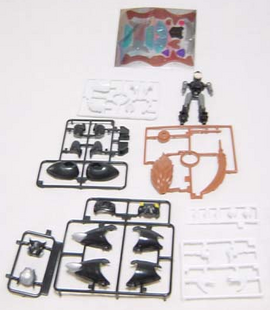 Zero figures: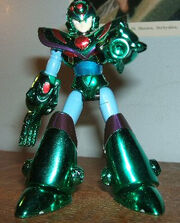 Rockman DASH 2
Four figures of Mega Man Volnutt with his appearance from Mega Man Legends 2 and one weapon. These model kits do not use the same structure as the previous Rockman 8 and Mega Armor model kits and are assembled piece by piece, resulting in greatly reduced articulation. The model is also not compatible with any of the parts from the aforementioned lines. The Rock Buster release includes parts for Volnutt's helmetless head, which is not included with the other three model kits.
Gallery
Rockman 8
Rockman X2-X3
Rockman X Mega Mission 3
Rockman X4-X6
Rockman DASH 2
Miscellaneous
See also
External links