Mega Man: Fully Charged is an American-Japanese-Canadian animated series based on the Mega Man franchise of video games. The show was developed by Man of Action Entertainment, Dentsu Entertainment USA, and animated by DHX Media. The series, which ran for 52 11-minute episodes, premiered on August 5, 2018, [1][2] airing on Family CHRGD in Canada, Pop in the United Kingdom, and Cartoon Network in the United States.[3][4] The show is also available on Amazon Prime Video.
After the end of the first season, which ended on a cliffhanger, budget cuts and disagreements on which direction the show should take caused issues with production of a second season, and talk of the show has since silenced. A comic book miniseries named after the show began in August of 2020, and is considered an "expansion" of the series.
Characters
Robot Masters
Development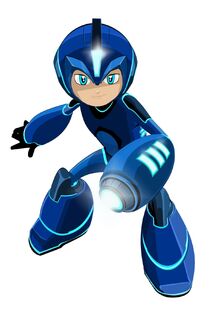 On June 2, 2015, Capcom partnered with Dentsu Entertainment USA to create an 26-episode animated television series of the company's flagship Mega Man video game franchise after 20 years since the 1994 animated series of the same name had its final run. Under terms of the deal, Dentsu Entertainment holds worldwide broadcast and licensing rights for all aspects of the new Mega Man TV series and handpicks American writing team Man of Action (Joe Casey, Joe Kelly, Duncan Rouleau and Steven T. Seagle), the creators of Ben 10 and Generator Rex, to create, write, and produce the show as executive producers.
At the Long Beach Comic Con 2015, Duncan Rouleau gave out more details regarding the the show's combination of game-based and new material such as the backstories of some characters will be different with "a few surprises," creating both new major and minor villains other then Dr. Wily and the Robot Masters and including Easter eggs for fans, while still focusing the show for a new audience. Man of Action also noted they've been working closely with Dentsu Entertainment and Capcom, including working with people in Japan who have been doing animations and designs of the characters and settings for the show, while trying to write stories that will appeal more to western audiences. They also confirmed that the shows animation style will be a "anime-animation hybrid" and the art-style would be much closer to how the characters appear in the games and Capcom's official art rather then the more superhero like designs of the 1994 cartoon, as noted by Rouleau regarding the visual appearance of Mega Man himself, "The Mega Man that you knew and fell in love with is still going to be the same Mega Man. He's going to be the younger version of him, because there's so many variations of who he could be, but we're going with the total, squat, awesome, big-boot, big-gun Mega Man".[5]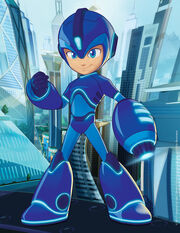 In May 2016, details of the plot were revealed, including a new sidekick named Mega Mini.[6][7]
In January 2017, a leaked teaser showed Aki Light transforming into Mega Man, and later he is seen fighting Fire Man and Drill Man. The video was taken down as the footage was not intended for public viewing and is not representative of the final product.[8]
On April 3, 2017, DHX and Dentsu announced that the series was delayed to around 2018 and it is announced that it'll air on Cartoon Network in the United States and Family CHRGD in Canada.[9][10]
In March 21, 2018, more details about the cartoon were released, including a promo image. It shows the new designs for (From right to left): Fire Man, Ice Man, Wave Man, and Drill Man. It also shows a new character named Hypno Woman.[11] The release date in this image was shown to be April, but the series was later delayed to August 5, 2018 on Cartoon Network in the United States.
In May, the name was changed to "Mega Man: Fully Charged."
On October 7, 2018. Cartoon Network removed the cartoon from the schedule and replaced with reruns of Teen Titans Go! although additional episodes aired online up until Episode 20.[12]
On January 4, 2019. Ahead of the show's return to Cartoon Network, the Cartoon Network website and video app have uploaded twelve brand-new episodes of Mega Man: Fully Charged.[13]
Production of a second season with 26 episodes was planned to be started after the end of season 1, with pre-production starting roughly halfway into the development of season 1, but some issues prevented it from being made right away. For months, DHX Media and Dentsu Entertainment could not get on an agreement on how to handle season 2. Dentsu wanted to air seasons 1 and 2 back-to-back in Japan as one long, 78 episode show, without reducing the amount of episodes. DHX wanted to cut at least 4-6 episodes, making it a smaller season to have the freedom of using the budget of the cut episodes to create a series of online shorts to promote the show, such as "a day in the life of a Robot Master" or fun little music videos. Dentsu didn't wish to fund the next season if it didn't had 26 episodes, and DHX Media could not fund the show due to having financial issues, making several cuts and rebranding as WildBrain on September 2019. The Cartoon Network ratings didn't help either, having a "death slot" and little to no promotion from Cartoon Network's side.[14]
On March 23, 2020 it premiered on the Gloob channel in Brazil, having its first season broadcast in the Brazilian version.[15]
Episodes
Toyplay
Toyplay is a series of short animations done with the Mega Man: Fully Charged action figures released by Jakks Pacific.
| Episode | Toys | Summary |
| --- | --- | --- |
| Time to Take Out the Trash | Mega Man, Guts Man, and Mega Buster | Mega Man and Guts Man are fighting in a dirty beach, and an accident makes Guts Man temporarily prone to help clean the area. |
| Piano Man | Mega Man, Mega Man (Drill Man Schematics), and Drill Man | Drill Man is disturbing the city with his loud and awful music. |
| Inferno | Mega Man and Wave Man | Mega Man tries to stop a fire caused by Fire Man, but the flames are too strong for him. Luckly, Wave Man is passing by, and Mega Man tries to convince him to help stop the fire. |
| Heatwave | Mega Man, Wave Man, and Guts Man | Mega Man calls Wave Man to help him water the plants to avoid them from drying due to the heatwave, but Wave Man overdoes it. |
| Grounded | Mega Man and Air Man | Wanting control over the sky, Air Man creates strong winds to stop an airport. |
| Keep It Cool | Mega Man and Ice Man | It's a hot day in Silicon City, and Ice Man wants to help cool the city by encasing it in a giant igloo. |
| Earthquake | Mega Man, Mega Man (Drill Man Schematics), Drill Man, Guts Man, and Air Man | A short stop motion animation with Mega Man fighting against three Robot Masters. |
| Airs & Graces | Mega Man and Air Man | Air Man doesn't want anyone to fly higher than him, so he attacks a fair to a balloon ride. |
| Ice Trash | Mega Man, Guts Man, and Ice Man | Guts Man and Ice Man team up to enter an ice cream competition. |
| Bin It | Mega Man and Guts Man | Guts Man is hungry and makes a mess around the city while eating. |
| Lab Sweet Lab | Mega Man, Mega Man (Drill Man Schematics), Air Man, Ice Man, and Mega Buster Lab | Ice Man is hurt during a battle between Mega Man and Air Man, and Mega Man takes him to his lab to recover. Ice Man likes the lab, but he thinks it could be cooler. |
| Up the Downstream | Mega Man and Wave Man | Wave Man builds a dam tat stops the city's river. Mega Man investigates and fights against Wave Man to return the water. |
| Guts Mans Diet | Mega Man and Guts Man | Guts Man decides to start a diet, and as result he starts ruining Silicon City's park by eating its plants. Mega Man convinces him to stop his diet. |
| Daylight Robbery | Mega Man, Mega Man (Drill Man Schematics), Drill Man, and Mega Buster Lab | Drill Man plans to rob a bank, but he drills to the wrong place and accidentally reveals his plans to Mega Man. Mega Man follows Drill Man to stop his plan. |
| Castle in the Sky | Mega Man and Air Man | A well made sand castle was ruined by a robot, and Mega Man searches the culprit, discovering that Air Man kicked it because he could not stand people trying to do something nice on the ground instead of the sky. |
| Alligator Afloat | Mega Man and Wave Man | It is a hot day in Silicon City, and the pool is empty. Mega Man searches Wave Man to ask for help filling it, but he refuses, saying that he is busy searching alligator. Mega Man decides to call Wave Man to inform him that alligator may be in the pool, but he gets angry when he sees that it is an inflatable alligator, causing trouble in the pool. |
| Gutzzz Man | Mega Man, Guts Man and Drill Man | Guts Man takes a nap in the middle of a street, causing a traffic congestion. Mega Man tries to wake him, but he is a heavy sleeper. |
| Double Trouble | Mega Man, Guts Man and Wave Man | Guts Man and Wave Man start fighting, causing damage to the city. When Mega Man tries to stop them, they decide to team up to take him down. |
Literature
Comic books
It was recently announced that the series will be revived as a six-issue comic book miniseries written by the series creators: A.J. Marchisello and Marcus Rinehart, with illustrations done by Stefano Simeone. and will be published by Boom! Studios.[16][17][18] Mega Man: Fully Charged #1 was released both physically and digital in August 2020.[19]
Gallery
Videos
External links
References