Mega Man: Fully Charged is an American-Japanese-Canadian animated series based on the Mega Man franchise of video games and developed by Man of Action Entertainment, Dentsu Entertainment USA, and animated by DHX Media. The series, which has been announced as having 52 11-minute episodes, premiered on August 5, 2018.[1][2]
It is currently aired on Family CHRGD in Canada, Pop in the United Kingdom, and Cartoon Network in the United States.[3][4]
Characters
Robot Masters
Development
On June 2, 2015, Capcom partnered with Dentsu Entertainment USA to create an 26-episode animated television series of the company's flagship Mega Man video game franchise after 20 years since the 1994 animated series of the same name had its final run. Under terms of the deal, Dentsu Entertainment holds worldwide broadcast and licensing rights for all aspects of the new Mega Man TV series and handpicks American writing team Man of Action (Joe Casey, Joe Kelly, Duncan Rouleau and Steven T. Seagle), the creators of Ben 10 and Generator Rex, to create, write, and produce the show as executive producers.
At the Long Beach Comic Con 2015, Duncan Rouleau gave out more details regarding the the show's combination of game-based and new material such as the backstories of some characters will be different with "a few surprises," creating both new major and minor villains other then Dr. Wily and the Robot Masters and including Easter eggs for fans, while still focusing the show for a new audience. Man of Action also noted they've been working closely with Dentsu Entertainment and Capcom, including working with people in Japan who have been doing animations and designs of the characters and settings for the show, while trying to write stories that will appeal more to western audiences. They also confirmed that the shows animation style will be a "anime-animation hybrid" and the art-style would be much closer to how the characters appear in the games and Capcom's official art rather then the more superhero like designs of the 1994 cartoon, as noted by Rouleau regarding the visual appearance of Mega Man himself, "The Mega Man that you knew and fell in love with is still going to be the same Mega Man. He's going to be the younger version of him, because there's so many variations of who he could be, but we're going with the total, squat, awesome, big-boot, big-gun Mega Man".[5]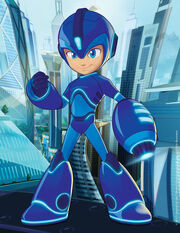 In May 2016, details of the plot were revealed, including a new sidekick named Mega Mini.[6][7]
In January 2017, a leaked teaser showed Aki Light transforming into Mega Man, and later he is seen fighting Fire Man and Drill Man. The video was taken down as the footage was not intended for public viewing and is not representative of the final product.[8]
On April 3, 2017, DHX and Dentsu announced that the series was delayed to around 2018 and it is announced that it'll air on Cartoon Network in the United States and Family CHRGD in Canada.[9][10]
In March 21, 2018, more details about the cartoon were released, including a promo image. It shows the new designs for (From right to left): Fire Man, Ice Man, Wave Man, and Drill Man. It also shows a new character named Hypno Woman.[11] The release date in this image was shown to be April, but the series was later delayed to August 5, 2018 on Cartoon Network in the United States.
In May, the name was changed to "Mega Man: Fully Charged."
On October 7, 2018. Cartoon Network removed the cartoon from the schedule and replaced with reruns of Teen Titans Go! although additional episodes aired online up until Episode 20.[12]
On January 4, 2019. Ahead of the show's return to Cartoon Network, the Cartoon Network website and video app have uploaded twelve brand-new episodes of Mega Man: Fully Charged.[13]
Episodes
Gallery
Videos
External links
References
Community content is available under
CC-BY-SA
unless otherwise noted.