New Pokemon Games - The Loop
Play Sound
In the Mega Man animated series, Dr. Light created several equipments for Mega Man to help in his fight against Dr. Wily.
Suits
Flight Suit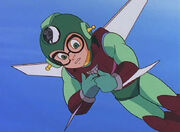 The Flight Suit allows Mega Man to fly. Its primary weapon was a mini-missile launcher with a homing beacon.
Marine Suit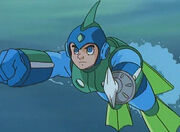 The Marine Suit is a super turbine power underwater defense apparatus that allows Mega Man to swim faster underwater. The Mega Buster is replaced by a harpoon gun. It was used in Terror of the Seven Seas and Bad Day at Peril Park.
Stealth Suit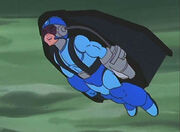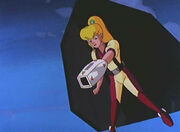 The Stealth Suit allows Mega Man to fly and become invisible, though Dr. Wily developed a counter-measure for the invisibility property. The Mega Buster was replaced with a larger arm cannon when Mega Man uses it, however Roll does not.
Vehicles
Air Raider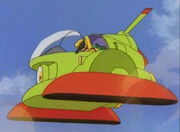 The Air Raider, also known as Air Fighter, is an aerial vehicle used by Roll in the first episode to go to the airport and help Mega Man.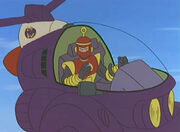 Dr. Wily has a modified Air Raider with a purple paint scheme and Dr. Wily's mark. In the flashback from episode 1, Rock and Roll use it to escape Dr. Wily's fortress. It also appeared in Bad Day At Peril Park.
Skycycle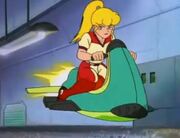 The Skycycle is a flying bike often used by Roll in the cartoon. It first appeared in the episode Electric Nightmare.
Land Blazer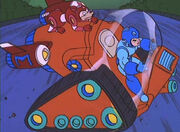 The Land Blazer was used in the episode Master of Disaster.  It is destroyed by Vile in Mega X.
Skullker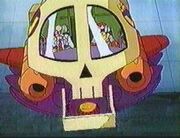 Skullker is Dr. Wily's primary vehicle in the cartoon, a flying transport based on the Wily Machine 4 from Mega Man 4. It is equipped with a vacuum, retractable arms, and a tractor beam to evacuate Wily's destroyed robots, as well as a beam cannon and a powerful levitating device that allows it to carry massive cargoes. It also has an escape pod similar to the Wily Capsule and ejectable seats.
Wily's digging machine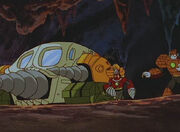 In episode 3, Wily uses an unnamed digging machine to create earthquakes in the city from the underground. It has three drills in front and two laser guns in the sides.
Wily's helicopter
Wily uses a large, tandem rotors helicopter multiple times throughout the series. It is strong and has incredible strength, being able to lift a building and transport an entire army, as demonstrated during its first appearance in the episode Mega-Pinocchio. This is also one of three vehicles that any of Wily's minions have piloted on their own, the others being the Skull Jet/Skull Fighter and the Skull Tank (see Attack Bots).
Wily's airship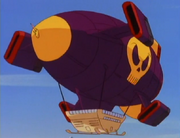 An airship used by Dr. Wily in the episode Ice Age.
Roll's tools
Tools that Roll has in her left arm.
Rush
Rush's transformations and devices.
| | |
| --- | --- |
| | Rush Jet, the most used transformation in the series. Rush turns into a jet to transport Mega Man at high speed. |
| | Rush Marine, an aquatic transport. |
| | A glider demonstrated in Rush's introduction in the first episode and used in Electric Nightmare to escape from a runaway train. |
| | A PWC demonstrated in Rush's introduction in the first episode. |
| | Four cushion-like objects used in Electric Nightmare to sneak into the power company without being noticed by Wily's robots. |
| | Rush's nose has a light that is used to show the path in the episode The Big Shake. |
| | A jack-hammer-like nose transformation used in Ice Age to cut a tube. |
| | Aerial transformation used by Mega Man in Future Shock to stay in the ceiling of his prison and fool the guard into thinking he escaped. He landed on the guard when he entered in the cell to verify. |
| | An aquatic transformation used in Future Shock to reach a boat. |
| | A snowmobile. |
Miscellaneous
| | | |
| --- | --- | --- |
| | Battery Biscuit | Rush's favorite food. Used as energy source to recharge him. |
| | Mind Link Helmet | A helmet used by Dr. Wily to control Mega Man and other robots in Mega-Pinocchio. With the telepathic mind control chip, Light determined the frequency of the chips and freed Mega Man from Wily's control. Once free, Mega Man tricked Wily and got Magnet Man's power to take the helmet and use Light's robots against Wily's robots. |
| | Shrink ray | Shrinking rays created by Dr. Wily in Incredible Shrinking Mega Man that uses rare red gems as energy source. There are three small gems that were used as guns by his robots, and one big gem that was equipped in the Skullker. Dr. Light discovered a way to reverse the process by modifying the molecular structure of the gems, turning them blue. In the end all gems were modified, supposedly making them unable to shrink again. |
| | Transport chamber | Wily planned to use two chambers to capture scientists in Bot Transfer by teleporting them to his hideout. He also used it to exchange the minds of Mega Man and Snake Man. |