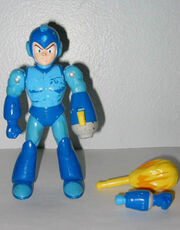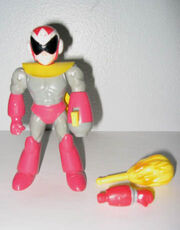 Like many animated series, the Ruby-Spears Mega Man TV show had its own merchandise, including action figures, soundtracks, and more. Though most of the merchandise in this article has long since been out of production, they can still be found on auction sites such as eBay.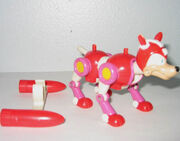 Action figures
These figures were released around the time of the debut of the show in 1994 and were produced by Bandai. Because Mega Man could copy other Robot Master's weapons, all Robot Master figures had a "weapon" that could be fired out of either Mega Man or Proto Man's busters.
Series 1
The first series consisted of six figures.
Series 2
The second series was limited to four figures, possibly due to the pending cancellation of the show.
One vehicle that the figures could ride in was produced as well.
PVC figures
Around the same time of the release of the action figures, Bandai released sets of small non-poseable plastic figures that were roughly two inches tall. These figures came in sets of two. Mega Man's figure is the same for all sets.
Canceled toy lines
When the show was cancelled, the toy line followed with it, leaving several toys unproduced.[1]
Mega Man: The Album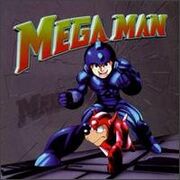 In 1995 (or early 1996), a soundtrack album was released on CD and cassette by Atlantic Records. The CD did not feature any music from the show, and the tracks on the album were not featured on the show itself, except during the end credits. However, there was some artwork and screenshots from the show featured in the booklet included with the CD.
This album is now out of print.
Track list:
Driver-The Hollowbodies
Eileen-Skid Row
She-Smile
Iron Mic-Sugar Ray
Realms of Junior MAFIA Pt. 2-Junior M.A.F.I.A.
Tryst-Machines of Loving Grace
Sinnerman-Extra Fancy
So Far, So Good... So What-CIV
Take Cover-Mr. Big
Got Myself Together-The Bucketheads
Signs, I Can't Take It-Inner Circle
Mega Man Theme
Other merchandise
Gallery
A gallery of the 1994 action figures and shots of the soundtrack album.
Video
Trivia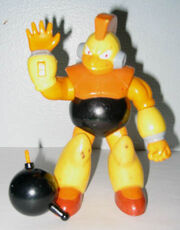 References
Community content is available under
CC-BY-SA
unless otherwise noted.