Raise a Floppa - The Loop
Play Sound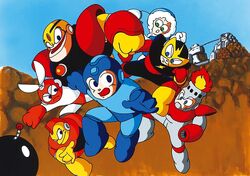 Script from the first Mega Man game. The only story-related text in the original game is the ending, which makes this script extremely short.
Ending
(After Mega Man defeats Dr. Wily in his fortress, the screen changes to a field with mountains and the text below is narrated.)
Megaman has ended the evil domination of Dr. Wily and restored the world to peace.[1]
However, the never ending battle continues until all destructive forces are defeated.
Fight, Megaman!
For everlasting peace!
(Mega Man appears running through a field and the staff roll starts. The sun sets during the staff roll. When approaching a city, Mega Man changes back to Rock and reunites with Dr. Light and Roll at night.)
Staff
Planner
Character Designer
Programmer
H.M.D.
Sound Programmer
Chanchacorin Manami
Notes
Except for the "r" in "Dr.", the text is all caps in-game.
↑ There is no dot in the end of this line in the original version. One was included in the Mega Man: The Wily Wars version.
↑ "Capcom" in Japan and Mega Man: The Wily Wars, "Capcom U.S.A.;" in the American version and "Capcom Co., Ltd." in the European version
See also