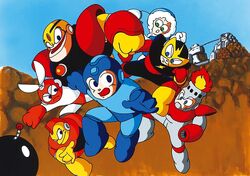 Script from the first Mega Man game. The only story-related text in the original game is the ending, which makes this script extremely short.
Ending
(After Mega Man defeats Dr. Wily in his fortress, the screen changes to a field with mountains and the text below is narrated.)
Megaman has ended the evil domination of Dr. Wily and restored the world to peace.[1]
However, the never ending battle continues until all destructive forces are defeated.
Fight, Megaman!
For everlasting peace!
(Mega Man appears running through a field and the staff roll starts. The sun sets during the staff roll. When approaching a city, Mega Man changes back to Rock and reunites with Dr. Light and Roll at night.)
Staff
Planner
Character Designer
Programmer
Sound Programmer
Notes
↑ There is no dot in the end of this line in the original version. One was included in the Mega Man: The Wily Wars version.
↑ "Capcom" in Japan and Mega Man: The Wily Wars, "Capcom U.S.A.;" in the American version and "Capcom Co., Ltd." in the European version
See also
Community content is available under
CC-BY-SA
unless otherwise noted.