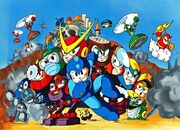 Script from the game Mega Man 2. Note that the only story-related text in this game is during the opening scene, which makes the original script extremely short.
Opening
200X年− Dr.ライトの生み出したスーパーロボット ロックマン によって
ナゾの天才科学者Dr.ワイリーの野望は阻止され 世界に平和がよみがえった。
しかし、世界征服をたくらむ Dr.ワイリーは、再び ロックマンに戦いを挑むべく、

新たに造り出した 8体のロボットを送り出したのである...。
Ending
(After Mega Man defeats Dr. Wily, he is seen walking through a peaceful forest scene. The changes of the seasons are each represented by one of the eight weapons he acquired. After a while, he stops and looks up at the sky, and the scene then shifts to show his helmet left behind on a hill.)
Staff
NO.009 METALMAN

Masanori Satou
NO.010 AIRMAN

Youji Kanazawa
NO.011 BUBBLEMAN

Takashi Tanaka
NO.012 QUICKMAN

Hirofumi Mizoguchi
NO.014 FLASHMAN

Tomoo Yamaguchi
NO.015 HEATMAN

Toshiyuki Kataoka
NO.016 WOODMAN

Masakatsu Ichikawa
Character Designer[2]
Sound Programmer[3]
Ogeretsu Kun

Manami Ietel

[4]
Programmer
H.M.D.
Planner
A.K
Special Thanks
Hiroyuki Maetani
Tatsuya Kasai
Mamoru Asoshina
Junichi Kanda
Masahiro Takahashi
Akimitsu Tsubata
Yoshiaki Gotou
Kazunari Suzuki
Yuu Yamazaki
Tomohiro Hosoya
Yoshiaki Nanki
Yasuhito Sasaki
Jun Katou
Seikou Jougan
Kenji Kinoue
Takashi Umezawa
Kazuya Wakazuki
Masashi Yamauchi
Makoto Ogoma
Seiji Tanaka
Hideaki Kawai
Ryouji Yasuda
Takayuki Wakisaka
Takumi Yoshinaga
Yasuto Nakamura
Shin Ienaka
Hirofumi Moriiwa
Tetsuya Miura
Michinari Satou
Yukio Hasegawa
Hiroyuki Tannai
Michiaki Hama
Takeo Morimoto
Masaki Satou
Youji Miyamoto
Shigehisa Iinuma
Yoshitomo Kodama
Taketsugu Wakabayashi
Toshiteru Ogura
Takeshi Arai
Fish Man
Thank you for playing...
Notes
The text is all caps in-game.
See also