Roblox: DeepWoken - The Loop
Play Sound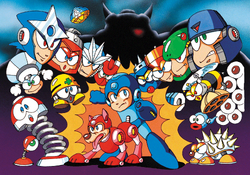 Script from the game Mega Man 3.
(After Mega Man defeats all seventeen bosses in the Stage Select Screen, he returns to the lab and Dr. Light talks with him.)
Dr. Light: Oh no! Right after we received the last element... Wiley[1] ran off with Gamma!
(Wily is seen escaping in his spaceship, and Mega Man enters Wily's fortress.)
Ending
(Mega Man defeats the fake robot Wily and then continues until he finds Wily controlling Gamma. Mega Man defeats Gamma as well, and Wily falls to the ground, begging for mercy. The fortress starts to fall apart, and pieces of debris fall on top of both Mega Man and Wily. A shadowy figure appears and destroys the debris on top of Mega Man.)
???: Where's Dr. Wiley?... Oh no, too late.[2]
(The figure teleports away with Mega Man.)
Epilogue
(Mega Man wakes up later in the lab.)
Dr. Light: Megaman, you've regained consciousness. I found you lying here when I arrived. I wonder who brought you here...
(A whistle is heard.)
Dr. Light: This whistle... It must have been Proto Man![3]
(Mega Man teleports out of the lab and starts running through a meadow. A list of Dr. Light's Numbers are shown, including the six bosses from the first game.)
Number list of robots made by Dr. Right[4]
Atomic energy controller
NO.007 FIREMAN
Waste disposal robot
NO.006 BOMBMAN
Ground disruption robot
NO.005 ICEMAN
Antarctic investigation robot
NO.004 GUTSMAN
Wilderness reclamation robot
NO.003 CUTMAN
Timber-felling robot
NO.002 ROLL
Housekeeping robot
NO.001 MEGAMAN
Former assistant to Dr.Right[6]
NO.000 PROTOMAN
New robot prototype, brother of Megaman
(After a while, Mega Man stops next to a tree and looks up to the sky to see an image of Proto Man. Wily's small spaceship can be seen flying away as well. Scene fades to the credits.)
Staff
No.17 Needle Man
Nobuhiko Akatsuka
No.18 Magnet Man
Nagashi Kii
No.19 Gemini Man
Yoshihito Hattori
No.20 Hard Man
Kazuhiko Oguro
No.21 Top Man
Yasushi Konjiki
No.22 Snake Man
Yuhjiro Ishitani
No.23 Spark Man
Mikihiro Suzuki
No.24 Shadow Man
Takumine Yoshida
Character Designer
Yasukichi

Tokimi293
Zizi
Donchan
Sound Compose
Programmer
T.K
A.M
Kero Kero
Planner
Patariro
Sub Planning
Hatukoochan
Bamboo
Inafking
Special Thanks
Mutsuo Shimomura
Takashi Fujioka
Akio Yabuki
Takehiro Suzuki
Tomohiro Komine
Yoshitomo Imaizumi
Masayoshi Anzaki
Junjiro Kimura
Katsuhiro Nakamura
Atsushi Watanabe
Takashi Umezawa
Tomohiro Takei
Tomohide Asakura
Takashi Yoshimura
Yoshitane Okimoto
Yataka Suzuki
Keisuke Hokku
Taku Hikichi
Tsutomu Kond
Hiroki Okabe
Hisatomo Tanaka
Akira Obata
Bungo Iwai
Shinpei Johno
Kazutaka Horimoto
Tetsu Akiyama
Masashi Haruki
Shouichiro Yamaguchi
Keisuke Kamioosako
Fumitomo Kagami
Makoto Inoue
Mrs. Tarumi
Jyagua
Takepong
Ashenden
Koba Win
Aribon
Yacchan Z
Iriko
Presented by Capcom
Notes
See also