Raise a Floppa - The Loop
Play Sound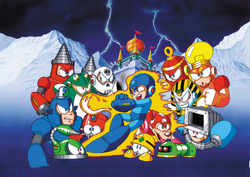 Script from the game Mega Man 4.
Opening
Household robots Rock and Roll were created by master robot designer, Dr. Light, and were enjoying their peaceful days. Then one day, the industrial robots all over the world went on a rampage and the world fell into chaos. Dr. Light quickly realized that mad scientist, Dr. Wily, was behind the nefarious deed but he didn't know what to do. Rock, having a strong sense of justice, volunteered to be converted into a fighting robot. Thus the super robot Megaman was born.
Megaman shattered Dr. Wily's plans three times and world peace has been maintained so far... but history repeats itself. Dr. Cossack, a mysterious scientist, has invented eight powerful robots and sent them after Megaman. Megaman starts for the battle again, this time equipped with the powerful New Mega Buster!!
(After Mega Man defeats Dr. Cossack, Proto Man teleports in with Kalinka.)
Kalinka: Please Megaman don't!! My father is not really evil. Dr. Wily took me hostage and forced my father to fight you. Please Megaman, don't hurt my father any more.
Dr. Cossack: Oh, Kalinka.....
Kalinka: Father.....
Dr. Cossack: Megaman, forgive me!
..................
(The Cossack Catcher explodes as Dr. Wily teleports into the area.)
Dr. Wily: You betrayed me, Protoman!! I'm gonna break you, Megaman!!
(Dr. Wily flies off in his saucer to his fortress.)
Ending
(Mega Man fights through Wily's fortress and eventually defeats him. Dr. Wily falls to the ground and appears to beg for mercy, but suddenly dashes through a secret door. An alarm goes off inside the lab and Mega Man teleports out just as the fortress starts to explode.)
Staff
(Mega Man stands on a train while the staff appears in the train's window. After some time, the train stops and Mega Man jumps out, being greeted by Roll and Rush)
Planner
Bamboo

S.Kobashi
Object Designer
Toshichan
Zizi
K.Hayato
Ikki
Scroll Designer
Machako
Mamimu-
Miss.21
Takap
Special Designer
Yasukichi

Inafking
Sound Composer
Programmer
T.K
Kero Chan
Staff
No.25 Bright Man
Yoshitaka Enomoto
Atsushi Ootsuka
No.27 Drill Man
Masayuki Hoshi
No.26 Pharaoh Man[1]
Takayuki Ebara
Hiromi Uchida
No.30 Dust Man
No.31 Dive Man
Suguru Nakayama
No.32 Skull Man
Toshiyuki Miyachi
Special Thanks
Daigo Seguchi
Takuya Yamagishi
Hidemitsu Kikuchi
Kenji Horita
Kouji Tsutaya
Makoto Kawatori
Toshinari Daijou
Shinichirou Seki
Kenji Nakayama
Tatsuhiro Fujiwara
Yuuichirou Okamoto
Shingo Shimizu
Tsutomu Kondou
Tomomi Shibayama
Shinya Mitsuda
Hitoshi Takesima
Kouzou Asano
Shinichirou Nishida
Takuya Kawata
Takashi Fujiwara
Youji Masuda
Daisuke Akebi
Akiko Ookuma
Yoshio Abe
Yoshihito Okada
Toshio Mori
Masayo Yamazaki
Masumi Abe
Tetsu Akiyama
Masaki Kondou
Yuusuke Kuramochi
Masato Matsuzaki
Presented by
Notes
The text is all caps in-game.
See also