Fire Emblem Warriors: Three Hopes - The Loop
Play Sound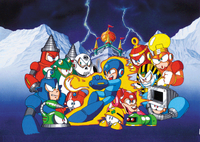 A chart that lists damage values for each boss in Mega Man 4.
Notes
For Mega Buster and Pharaoh Shot, the first number is when the weapon is fired normally; the second is when it is fully charged.
Flash Stopper's offensive attack is an uncharged Mega Buster shot, so it can technically damage any boss that is damaged by the Mega Buster. However, Pharaoh Man becomes frozen by the flash, allowing Mega Man to score more hits without being attacked. In this case, the maximum damage that can be done in a single Flash Stopper activation is 7.
If a Flash Stopper flash is still active when the second Cockroach Twin is defeated, the game will fail to advance to the next level. Mega Man will have to commit suicide from the spikes and win the battle again to proceed.
For Drill Bomb, the first number is damage inflicted when hitting a boss directly with it; the second number is damage inflicted from the explosion itself by detonating a Drill Bomb next to the boss.
Under normal circumstances, Tako Trash takes no damage from Skull Barrier; however, damaging it with Drill Bomb removes its sprite hit box, allowing Mega Man to stand on the boss's platform without being harmed. This is the only way to deal damage with Skull Barrier.
Toad Man's Rain Flush will always override Mega Man's. If both attack with it at the same time, or one right before the other, Mega Man's Rain Flush will be canceled.
Damaging the 2nd phase of Wily Machine 4 with the uncharged Mega Buster, Ring Boomerang, Dust Crusher, or unexploded Drill Bomb requires an elevating item, such as Rush Coil or the Balloon.