Raise a Floppa - The Loop
Play Sound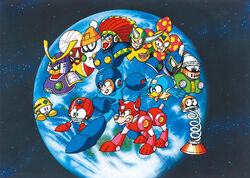 Script from the game Mega Man 6.
Opening
In the year 20XX AD...
The 1st Annual Robot Tournament was held with 8 of the world's most powerful robots. But... Mr. X, the sponsor of the tournament, took control of the robots and began to take over the world.
Megaman: Mr. X!! Why!?
Mr. X: It's time to tell you the truth. I have been manipulating that fool, Dr. Wily from the beginning. But now I no longer need Dr. Wily's help. Come and face my power, Megaman!!
Megaman: We'll stop you! Follow me, Rush!
(After Mega Man confronts Mr. X in his X Crusher and defeats him.)
My scheme for world domination has faild![1] But I still have enough power to destroy you!
(Mr. X reveals himself to be Dr. Wily and flies away in his spaceship.)
Let the final battle begin!
Epilogue
(Mega Man fights through Wily's fortress until he encounters the scientist again and defeats his battle machine. This time however, Mega Man captures Wily and delivers him to the authorities, who put him in prison.)
Triumphant at last, Megaman arrested the notorious Dr. Wily and brought him to justice. Sentenced to prison for his crimes, Dr. Wily now rules over a prison cell. At long last, the world is at peace.
Staff
DWNB-41 BlizzardMan
Designer Hirofumi Ogawa
DWNB-42 CentaurMan
Designer Kazuki Kidoguchi
DWNB-43 FlameMan
Designer Noritsugu Kurokawa
DWNB-44 KnightMan
Designer Daniel Vallie
DWNB-45 PlantMan
Designer Nobuhiro Hoshino
DWNB-46 TomahawkMan
Designer Yoshinobu Suda
DWNB-47 WindMan
Designer Michael Leader
DWNB-48 YamatoMan
Designer Rai Ichikawa
Saori Tsubaki
Tsuyoshi Shinoda
Tomoaki Hirose
Miki Kawashima
Satoshi Sakamoto
Tomoko Miyamoto
Mitsumasa Nagaya
Tomohiko Sato
Waka Maeda
Kenji Tsujimoto
Takako Asami
Yasuko Watanabe
Seiichi Honma
Shigeharu Kagawa
Akio Ofuji
Kenichiro Ueda
Katsuki Mugishima
Yuichiro Haruyama
Aya Hattori
Shunji Terauchi
Luc Miron
David Dunn
Pol Santamans Bacart
Nicolas Fels
Marco Varga
Nathan Campbell
Pelle Lövholm
Juson Soule
Shin Kyung Bong
Aron Bundels
Lee Konstantinou
Patrick Nahon
-Planner-
Turkey-613
-Helper-
Bambee
Mizu.
-Object Designer-
Kazushi・I
Toshi-chan
Inafking
Tom-Pon
-Scroll Designer-
Bandy
Dai
Donchan
-Programmer-
Michaelle
Shimitan
-Sound Composer-
Yuko
-Advisor-
Patariro
Hyper Mickey
-Super Test Player-
Pukuchi
-Special Thanks-
Hyper Bengie
Ryo
Duke
Mokuo-Iwao
And Capcom all staff
Presented by Capcom
To be continued
Notes
The text is all caps in-game.
See also