Fire Emblem Warriors: Three Hopes - The Loop
Play Sound
This article is set to be rewritten to fit MMKB's standards. Please note that large changes will be made and that your edits may be heavily edited or erased.
This article requires cleanup.
You can help MMKB by improving it.

Mega Man Star Force, known as Shooting Star Rockman (流星のロックマン, Ryūsei no Rokkuman) in the Japan, is a Japanese animated series based on the video game series of the same name. It is a spiritual successor to the MegaMan NT Warrior series, taking place roughly 200 years in the future. It premiered in Japan on October 7, 2006, two months before the release of original Mega Man Star Force.
History
Ryuusei no Rockman was part of TV Tokyo's Oha Coliseum program block, alongside the Ape Escape anime, Saru Get You ~On Air~. On October 6, 2007, the time-slot that had been held by Saru Getchu was replaced with the Zero Duel Masters anime.
Plot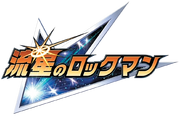 Set in the year 220X, the story is about a boy named Geo Stelar, whose father goes missing one day while trying to contact alien life forms. Geo, who does not take news of this well, goes into a state of depression before meeting the FM-ian Omega-Xis, who tells Geo he knows his father. Joined by new found friends and gaining the ability to EM Wave Change with Omega-Xis, Geo embarks on a quest to find his father and stop the invasion of Planet FM as the Star Force MegaMan.
Episodes
The series loosely follows the events of the first Nintendo DS Mega Man Star Force video game. However, the storyline makes an obvious shift at Japanese episode 32 using many concepts not featured in the games, specifically, the FM-ians' quest to gather "minus energy" and their ability to transform into doppelgänger forms of the humans they once possessed.
English Dub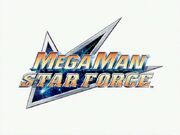 The Mega Man Star Force English dub was done by VIZ Media[1] and produced at Studiopolis, Inc. Aside from the soundtrack change, unlike the English version of the series' predecessor Mega Man NT Warrior, the dub features considerably more accurate translation with far less cut footage and censorship. While many names and terms were changed, they mostly coincide with changes for the English versions of the video games. However, there are a number of translation inconsistencies. Some examples include the character of Misora Hibiki, who is referred to as Sonia Strumm in the English games but as Sonia Sky in the English anime.[2]
The original Japanese episodes are roughly 10 minutes long, with the English version combining two episodes together to fill a single 30-minute time-slot. In order to fill more time, a few minutes of footage from various episodes are added at the start of episodes, usually narrated by a particular member of the cast, acting as a recap of previous episodes and slight foreshadow of upcoming events.
For the dub's episode 13, instead of combining Japanese episodes 25 and 26; after episode 25's portion was complete, ten minutes of recycled footage with original narration by Geo Stelar was made. This was presumably done because episode 26 is the start of a new story arc, giving the dub a somewhat conclusion, not knowing if they'll do the later episodes. This ended up being the final episode of English dub, leaving 30 Japanese episodes not dubbed in English.
The series premiered on the online streaming video service Toonami Jetstream on July 23, 2007. The show made its television debut on Cartoon Network on August 25, 2007 [3], edited as a 2-hour faux-movie presentation composed of Japanese episodes 1 through 9 and heavily slimmed-down versions of episodes 12, 15, and 16. The series would never air in normal episodic format on television, and subsequent episode airings online revealed that the unusual edits are exclusive to its television appearance.
The series was later added to Viz Media's Neon Alley digital anime channel and started streaming on Hulu on June 1, 2015.[4]
Music
Opening Theme: "Heart Wave" by Sonia Sky/Misora Hibiki (Misato Fukuen)
The English version of the opening, despite keeping the original footage and sounds, instead features original scores performed by Thorsten Laewe.
Home media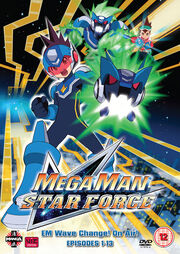 The Star Force series saw neither an American or Japanese home media release, despite the Rockman.EXE series being released in full. However, a region 2 UK collection of the 13 English dubbed episodes was released in 2008 by Manga Entertainment.
Trivia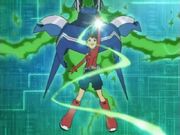 As voice recording was outsourced to Studiopolis in Studio City, California, Star Force became the first (and as of the premiere of Mega Man: Fully Charged, only) animated adaptation in the franchise to not be recorded in Vancouver, British Columbia.
There are instances where the original Japanese name is used instead of the localized version used in the games, such as an instance where Mega Man shouts "Rock Buster" instead of "Mega Buster."[5]
Easter eggs referencing other series within the Mega Man franchise are also inserted into the program on occasion. Examples include a broadcast of a girl wearing Roll Caskett's clothes from Mega Man Legends, as well as a boy in Shepard's class wearing Lan Hikari's clothes from Mega Man Battle Network sans the headband.[6][7]
References
Gallery
External links