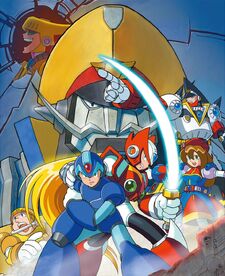 Script from the game Mega Man X4, Zero's storyline only. (See also: X's storyline).

Scene 1: Foreboding
Scene 2: The First Mission
Scene 3: A Fiery Grave
Scene 4: The Sparks of War
Scene 5: The General's Speech
Scene 6: Enter Iris
Scene 7: Stage Descriptions and Intros
Scene 11: Peacock's Readings
Scene 12: Owl's Unit
Scene 13: Walrus' Threat
Scene 14: Stingray the Coward
Scene 15: The Beast
Scene 16: The Showdown
Scene 17: The Plea
Scene 18: To the Space Port
Scene 19: Colonel's Demise
Scene 20: Scramble
Scene 21: Only a Fantasy
Scene 23: The Return of a Nightmare
Scene 24: The Red Maverick
Scene 25: Realization
Scene 26: Memories
Scene 27: Aftermath
End of Script
Notes
(1) It should be noted that Sigma's image shown in Zero's dream lacks the scars he has in his game appareances. This means that that was an image of Sigma before he became a Maverick.
(2) Zero's line "This isn't happening!! There's no reason for me to go on!" is an extensive script localization which he only doubts about what he should fight for in Japanese script.
References