Mystery Tank, known as Mystery Can (ミステリー缶, Mystery Can) in Japan, M Tank (M缶, M Tank M Can) for short, is a Tank item from the Mega Man series. Like the Super Tank, the M Tank recovers the energy from Mega Man's health and all Special Weapons, but it also contains an additional effect: If the M Tank is used when the health and all weapons are with full energy, it will turn all weak enemies on screen into 1UPs, or give the player one extra life if no weak enemies are nearby. Also like the Super Tank, only one can be carried at a time.
Appearances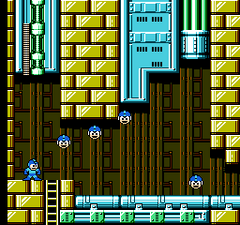 M Tanks can be found in Stone Man's stage, Crystal Man's stage, and most Wily Castle stages. M Tanks won't appear if Mega Man is already carrying one with him.
↑

Crystals will stop falling in the area it was transformed.

↑ 2.0 2.1 2.2 2.3 The Weapon Select Screen can't be accessed while riding the Marine Bike.
M Tank can be found in the third Wily Castle stage. It can also be purchased in Dr. Light's Laboratory for 50 Screws.
Mega Man can purchase a M Tank in Dr. Light's Laboratory for 50 Screws.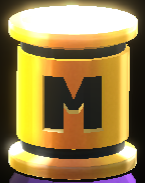 M Tank can be purchased in Dr. Light's Laboratory for 300 Bolts.
*If Bunby Balloon is attached to the balloons, the whole Bunby Balloon will transform into one 1-UP. When separated, each balloon will also transform into an 1-UP.