The Old Surface City (旧地上都市, Kyuuchijoutoshi) is a location from the first Mega Man Zero game. It is a ghost city abandoned long ago. Fugitive Reploids labelled as Mavericks by Neo Arcadia eke out a living hidden under the high-rise buildings and rubble. The Resistance Base is hidden under the city. To the left of the base is the entrance to the Desert, and to the right is the entrance to the Subway Ruins and the Disposal Center.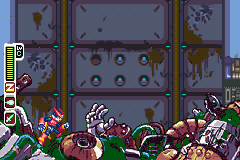 The Disposal Center (処理しせつ / スクラップ処理場, Shori Shisetsu/Sukurappu Shorijou) is a facility used by Neo Arcadia to dispose of anyone they consider to be "Mavericks". After her rescue, Ciel asks Zero to destroy the facility to prevent further retirement of innocent Reploids. Zero arrives on time to rescue one Reploid and two Mechaniloids from Aztec Falcon.
After the player completes (or fails) 4 missions after the Disposal Center, Hittite Hottaid will be deployed by Neo Arcadia to destroy/weaken the Resistance Base, being released in front of the Disposal Center and passing through the old city until it reaches the base. Zero must destroy it before it reaches the Resistance Base.
Enemies
Rescue Reploids from Disposal
Giant Mechaniloid Invasion
| Image | Name | Location |
| --- | --- | --- |
| | Mippie | Inside an Item Box in the crane to the right of the large yellow building. Will become harder to obtain if Hittite Hottaid digs through the building. |
| | Clocpooh | Inside an Item Box on the right side of the broken building. Use a charged Z Saber or Shield Boomerang attack to break the box and go down to wait for the Cyber-elf. Alternatively, when not in a mission, use Triple Rod or the invincibility period after taking damage to jump above the Totem Cannon under the box to reach the wall and get closer to the Item Box. |
| | Birsky | Destroy 5 Carryarms or Spikings (either of those two count as one enemy) during the Disposal Center mission. |
| | Gireff | Destroy 5 Pantheon Hunters during the Disposal Center mission. |
| | Gibber | Destroy 15 parts of the Totem Cannons during the Disposal Center mission. |
| | Birtack | Defeat 20 of the Gli-Eyes released by Hittite Hottaid. |
| | Stoctto | Defeat Hittite Hottaid. |
| | Hapitan | Let Hittite Hottaid drill at least half of the yellow building before destroying it, and return after the mission to find a pit to the Subway Ruins with a small area in the wall with an Item Box. |
Trivia
In the Japanese version, the walls from the Disposal Center are dirty and damaged. These details were removed in overseas versions.
Community content is available under
CC-BY-SA
unless otherwise noted.