Onimusha Blade Warriors, known as Onimusha Buraiden (鬼武者 無頼伝, Onimusha Buraiden) in Japan, is a PlayStation 2 fighting game from Capcom's Onimusha series. MegaMan.EXE and Zero (as he appears in the Mega Man Zero series) are hidden playable characters in this game. The two are bright, colorful anime characters in contrast to the game's dim, colorless, realistic sets and characters.
Each character has three playable forms, which are: MegaMan.EXE, MegaMan.EXE Ground Style, MegaMan.EXE Bug Style, Zero, Zero's Proto Form, and Zero's Ultimate Form.
This game is rated T by the ESRB.
Playable characters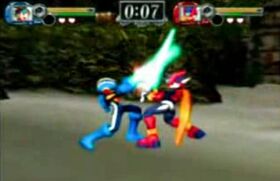 Zombie Warrior - A demon grunt from Onimusha: Warlords. The first of Guildenstern's engineered demons. This zombie makes up for his lack of intelligence with a powerful instinct to seek out and destroy life.
Three-eyes - A demon ninja from Onimusha: Warlords. This engineered demon was modeled after a ninja. Highly athletic, his agility far exceeds normal human levels. He can be spotted by his three eerily glowing eyes.
Nobunaga Oda - The Demon Lord who appeared in Onimusha, Onimusha 2, and Onimusha 3. He wants to rule over the entire world with his Genma Army.
External links