PlanetMan.EXE (プラネットマン, Puranettoman) is an antagonist in MegaMan NT Warrior.
Overview
Unlike his video game counterpart, who is the acting leader of the World Three in Mega Man Battle Network 2, in the anime PlanetMan is an extraterrestrial NetNavi on the moon.
History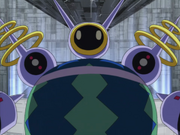 PlanetMan disrupted a space mission and deleted the NetNavi in charge of it, prompting Commander Beef to investigate. PlanetMan hacks into the computer system of a space shuttle and attempts to shut out Commander Beef until he runs out of air. MegaMan and GutsMan jack in to battle against PlanetMan, but GutsMan is held off by viruses. They also have trouble battling because there is a delay in the transmission of data, but Mr. Famous gives Lan the extra code which enables MegaMan to utilize the AquaCustom Style and through this, PlanetMan is deleted, enabling Commander Beef to get into the space shuttle.
Abilities
TBA
List of appearances
Gallery
TBA
Trivia
TBA