Prog (プログ, Purogu) is a family of viruses from Mega Man Battle Network. This virus was originally a green program, but over the course of game events got corrupted by World Three. The fate they now face is a slow and painful demise caused by their fragmented data crumbling into oblivion. Corrupt programs are unfortunately beyond recovery and must be deleted to put them out of their misery. This is supported by the dialogue of some of the programs who became victims of the brainwashing but managed to hang onto a sliver of their original personalities. Those that can barely communicate with the little sanity they have left begged for deletion.
This virus hovers above ground on one panel. When it attacks, it shakes with shock and releases an electric ball which can stun the player if it hits. It only moves forward, and only does so after firing its attack. If met with the player's row, it will use Steal to remove the player's field to trap them. Interestingly, their attack also causes self damage, inflicting 5 HP of damage every time it attacks, implying that the program is slowly falling apart from its data fracturing.
Prog Family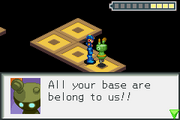 Prog Mark 1

Prog Mark 1 are green in color, reminiscent of the original DataPrograms.
They have a dark colored face that evokes a sinister brainwashed appearance, orange belt and orange fin-like headpiece. Only the right fin remains intact- the left one has apparently been broken off or deleted after crippling the program, leaving it an incomplete being that is doomed to collapse. Their eyes have are blank, vacant stares and glow teal as rampant electrical energies spew out. The corrupted programs are unstable and emit static as they glitch up, causing them to slowly deteriorate before they finally perish.
Prog Mark 2

Prog Mark 2 are blue in color. They have a dark colored face, light blue belt and blue fin-like headpiece.
Prog Mark 3

Prog Mark 3 are pink in color. They have a dark colored face, green belt and green fin-like headpiece.
Virus Stats by Game
Prog Mark 1

HP:

150

Element:

Damage:

100

Dropped:
RingZap1 (G, N, P)
Location:
Energy Plant 1/2/3

Prog Mark 2

HP:

200

Element:

Damage:

100

Dropped:
RingZap2 (C, J, L)
Location:
Energy Plant 2/3/4

Prog Mark 3

HP:

250

Element:

Damage:

100

Dropped:
RingZap3 (A, B, T)
Location:
Energy Plant 3/4
Ring Zap is not to be confused with Zap Ring.
Ring Zap, known as Elec Circle (エレキサークル, Ereki Sākuru) in Japan, is the Battle Chip dropped by deleted Progs. These chips cause a small ball of lightning to suround MegaMan a certain number of times as noted in the description of each chip.
ID
Battle Chip
Description
Attack
Element
Codes
Rarity
51
RingZap1
Lightning circles you once
100
Elec
G,H,M,N,P
*
52
RingZap2
Lightning circles you twice
100
Elec
C,E,G,J,L
**
53
RingZap3
Lightning circles you thrice
100
Elec
A,B,O,R,T
***
Community content is available under
CC-BY-SA
unless otherwise noted.