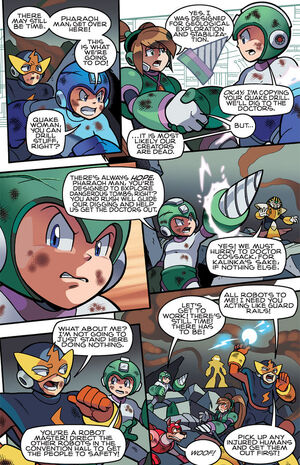 Quake Drill is Quake Woman's Special Weapon in the Mega Man comic book series by Archie Comics. Quake Woman used this "weapon" as a tool, presumably to counteract minor earthquakes to keep them from causing too much damage to property. When used by Mega Man, he can drill into solid rock or create tremors strong enough to knock his opponents off their feet.
The Quake Drill is used by Mega Man in Issue 16 of the comic series, and is used by Quake Woman in early issues from the Spiritus Ex Machina story arc to disable bombs by vibrating the components until they fall apart. Quake Woman and Mega Man use it to dig Drs. Light, Cossack, and Lalinde out from under a pile of rubble.
Mega Man's colors when using this weapon are green and white with lavender trim.
Community content is available under
CC-BY-SA
unless otherwise noted.