Ra Thor (ラ・トール, Ra Tōru) is a powerful Robot Master that appears in Super Adventure Rockman. He is the penultimate boss in the game.
Appearance
Ra Thor is a robot with black armor with yellow details. His eyes glow yellow, making him seem intimidating.
Video game appearances
Ra Thor was created by Dr. Wily using the advanced technology that he discovered in the Temple of the Moon while working with the supercomputer Ra Moon. When Wily learns that Ra Moon has been using him all along in order to accomplish his mission of building a new army with which to take over the world, Wily rebels against his new partner and orders Ra Thor to destroy Ra Moon. However, Ra Moon has somehow managed to reprogram Ra Thor without Wily's knowledge and the powerful robot rebels against Wily, attempting to kill him. Mega Man, however, intervenes and saves his archenemy's life.
According to Dr. Wily, Ra Thor is two times faster than Quick Man and three times tougher than both Wood Man and Hard Man, but Mega Man manages to defeat him using a combination of the acquired Robot Master Special Weapons that he has and the Proto Shield, specially the Spark Shock. After his defeat, Ra Moon says that Ra Thor was just another of Wily's imperfect machines, and reveals that he secretly created his own robot, the New Yellow Devil.
Other appearances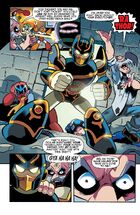 Ra Thor first appeared in issue 29 of the Mega Man comic book series by Archie Comics. Like Super Adventure Rockman, he was created by Dr. Wily. Unlike the game, he had been created specifically to stop Ra Moon after the latter betrayed him, because he was derived from the same technology as Ra Moon. Unfortunately, it was that very reason that allowed the evil supercomputer to take over the robot and turn him against Wily when he arrived to attack him, also giving Mega Man and the others trouble due to him lacking any weaknesses. It took all of Mega Man's remaining Special Weapon energy to temporarily stun Ra Thor, with Break Man finishing him off with a swift drop of his shield onto his head.
Gallery
Trivia
Community content is available under
CC-BY-SA
unless otherwise noted.