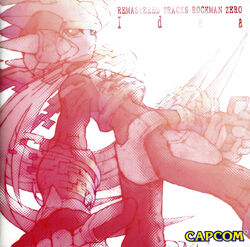 Remastered Tracks Rockman Zero: Idea is a soundtrack album which contains remixed game tracks from Mega Man Zero 2, as well as some remixes of extra tracks not included in the game. The tracks were composed and remixed by Ippo Yamada, Luna Umegaki, Masaki Suzuki, Chicken Mob, and Tsutomu Kurihara. The two-disc album was published by Inti Creates on May 28, 2004 and contains 40 tracks, four of which being EX tracks.
Track listing
Disc One
Title II
For Endless Fight II
Departure
Crash II
Result of Mission II
X, The Legend
Resistance Force
Momentary Peace
Labo
Red Time - 2 Player Edit -
Instructions
Sand Triangle
Strong Will
Imminent Storm - Uneasy Arrange -
Ice Brain
Gravity
Platinum
Mark of Justice - Resistance Anthem - (EX Track)
Neo Arcadia II
Power Bom
Uneasy
Spreading Darkness
Disc Two
L'oiseau du bonheur (EX Track)
Cool Water
Passionate
Flash Back
Combustion
Melt Down
Cool Hearted Fellow
The Cloudy Stone
The End of Legend
Silver Wolf - Yggr-drasill -
Supreme Ruler
The Last - The Wish Punished -
In Mother's Light
Awakening Will
Red Time (EX Track)
Clover (EX Track)
Gallery
External links
Community content is available under
CC-BY-SA
unless otherwise noted.