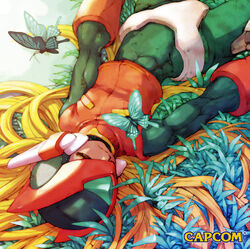 Remastered Tracks Rockman Zero - Physis is the fourth and last remixed soundtrack for the Rockman Zero series, with music from Rockman Zero 4. It was produced by Inti Creates and released in September 30, 2005. It includes bonus tracks, vocals and drama tracks. Unlike the other Remastered Tracks Rockman Zero, the drama tracks do not expand on the game's storyline and are merely dramatized versions of in-game events. It also contains a calendar and two booklets, one with information of the soundtrack and the other with an epilogue of the series called "Vile's Incident: Eden dome, its sin and rebirth". Early copies of the soundtrack also included a 2006 calendar.
Track listing
Disc one
Title IV
Ragnarok Record -Prologue- Gjallarhorn
Caravan -Hope for Freedom-
Nothing Beats
Holy Land
Elves Dance
Esperanto
Fragile Border
On the Edge
Kraft
Max Heat
Deep Blue
Celestial Gardens
Queen of the Hurt
Showdown
Cage of Tyrant
Ragnarok Record -At Prison- Valhol
Exodus
Blaze Down
Sleeping Beast
Magnetic Rumble
Blackheart Beat
Crash IV
Disc two
Straight Ahead
Ragnarok Record -At Control room- Laevatein
Power Field
Rust and Dust
Crossover Station
Cyber Space
Fate -Theme of Vile-
Ragnarok Record -Final battle- Ragnarok
Falling Down
Ciel d'aube
Promise - Next New World - (Overseas Version)
Alouette March
Inside of a Flame
Freesia
L'Oiseau Du Bonheur (Karaoke Version)
Freesia (Karaoke Version)
Clover (Karaoke Version)
Gallery
External links
Community content is available under
CC-BY-SA
unless otherwise noted.