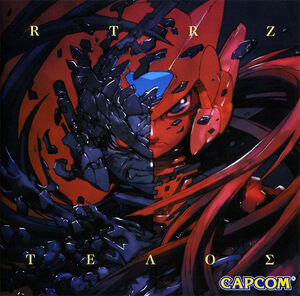 Remastered Tracks Rockman Zero ΤΕΛΟΣ (Telos) is the third remixed and arranged soundtrack released for the Mega Man Zero series. Similar to Remastered Tracks Rockman Zero Idea, it includes bonus tracks, vocals and content that expands upon the game's storyline. It was released by Inti Creates on December 10, 2004 in Japan.
"Telos" is perhaps referring to Omega himself, or to the end of Zero's "old business" with Weil and Omega.
The two main discs are named after the two Baby Elves who serve as antagonists, Créer and Prier (Crea and Prea in the English version of Mega Man Zero 3).
Créer disc
Title III
Neo Arcadia March
Forbidden Ark
Break Out
Darkness over World
Exiled One -Omega-
Omega Battle
Curse of Vile
Result of Mission III
Prismatic
Visor Eyes
Volcano
Water City
Reborn Mechanics
Old Life Space
Crèer and Prier
Crash III
Final Count Down
Omega Missile
Darkelf -Arrange-
For Endless Fight III
Sand Triangle II
Infiltration II
Neo Arcadia III
Cold Smile
Trail on Powdery Snow
Submerged Memory
High-Speed Lift
Prier disc
Note: Track 10 to 19 are drama tracks.
Hell's Gate Open
Scrapped Beat
Judgement Day
Return to Zero
Apocalypse Now
Cannon Ball
I, 0 Your Fellow
Everlasting Red
Lab -System-a-Ciel-
Retrospect1_Elf War
Record1_Clockwork Apple
Record2_Irregular Passion
Decision_Eight Gentle Judges
Diary_Alouette's Good Day
Will1_Vile Numbers
Will2_Light and Shadow
Will3_Stand and Fight
Will4_With Our Justice
Retrospect2_Dream's Never End
Additional information
For translations of tracks 10-19, see the Telos Drama Track Translations page. Due to its length, track 14, "Diary_Alouette's Good Day", has its own page.
The four "Will" tracks are side stories that occur during Mega Man Zero 3 with respect to the Guardians' perspective.
The theme for the final stage, Weil's Lab, titled "Curse of Vile - Stage Version" in the OST discs, is not remastered in here, likely due to its resemblance with "Curse of Vile".
"Records 1 & 2" are the personal views of Elpizo, before his appearance in the second title, and also clarifies why he is so bent on destroying Neo Arcadia.
Only half of the Eight Gentle Judges are featured in both tracks they appear in, namely Cubit Foxtar, Childre Inarabitta, Tretista Kelverian and Deathtanz Mantisk. In the first track, "Decision_Eight Gentle Judges", their voices and manner of speech are clearly different from their corrupted selves in "Will1_Vile Numbers". For instance, Foxtar's voice was more boyish than effeminate, Mantisk and Kelverian lacked the crazed and brutish mannerisms, respectively, of their latter selves, and Inarabitta was calmer.
Gallery
External links
Community content is available under
CC-BY-SA
unless otherwise noted.