Resistance Base (レジスタンスベース, Rejisutansu Bēsu), as its name suggests, is the base of operations of the Resistance in the Mega Man Zero series, set in an old underground area on the Old Surface City. After the damage done by Neo Arcadia in Mega Man Zero, the Resistance moved to a New Resistance Base in Mega Man Zero 2, to which they operate from for the rest of the war.
The Resistance Base is a shelter for Reploids who are suspected of being Mavericks. Although they try their best to survive against Neo Arcadia, they know that they were fighting a losing battle. As a last resort, the Resistance searched for the legendary Reploid Zero in hopes that he will help them. Many Resistance soldiers were killed during the search, but Ciel, the only survivor from the search team, was able to find Zero in a Forgotten Laboratory. Zero saves Ciel from the Neo Arcadian forces, and she takes him to the Resistance Base. In the base, Zero hears about the conflict between the Resistance and Neo Arcadia and agrees to help, going in several missions.
Some time later, Neo Arcadia sends troops commanded by Hanumachine to attack the base. The Resistance is unable to hold them out, and the base suffers heavy damage. All survivors abandon the base with an evacuation transport.
Floors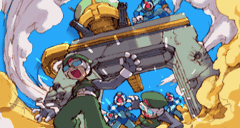 Enemies
Resistance Trailer

The Resistance Trailer is a mobile unit of the Resistance, constructed by Ciel so that a part of the organization can move to wherever they're needed. At the beginning of Mega Man Zero 4, the trailer intercepts a Caravan, and they protect it from the forces of Dr. Weil trying to bring back the humans. After that, the trailer follows the Caravan to Area Zero, where they spend the rest of the game protecting the area and its populace from Operation Ragnarok.
The Trailer comprises three connected, hi-tech box trucks, one larger than the other two. The larger truck has two rooms, housing the Command Center, occupied by Ciel and Rouge, and Cerveau's lab. The other two cabins mainly consists of a bedroom apiece, one occupied by Alouette and another by Hirondelle; however, there's a computer in Alouette's room that can help Zero upgrade his Cyber-elf.
See also